Last Updated on December 1, 2021 by Cass County Online
It's beginning to look a lot like Christmas! Here are a few of the displays you'll find in our area and around the state:
Logansport Christmas in the Park
The lights in Spencer Park in Logansport are on from dusk to dawn through January 2. Enter from East Broadway and Cass Plaza Road. It's free but free-will donations are accepted. You can scan a QR code at the end to make a donation. Monday and Tuesday are walk-through nights. You can check their Facebook page here.
---
Lights in the Airpark (Miami County)
Grissom Air Museum hosts the 2nd annual Lights in the Airpark Thursday through Sunday, November 26, 2021 through January 2, 2022 as we host our second annual Lights in the Airpark! Enjoy light up displays of Cold War era aircraft, see theguard tower transformed into a light up Christmas tree, check out theindoor museum, and more! Gates open at 4:30 p.m. and will close at 9 p.m. Admission is $5 per person with children five and under being free. More info here.
---
Pulaski Christmas Lights (Pulaski County)
The Village of Pulaski invites everyone to come and share in its labor of love, drive through the small town and return home with a warm feeling of fellowship and peace, shared by all who made 'A Gift to Brighten Your Christmas' possible." Pulaski is located on State Road 16, southwest of Winamac. Lighted displays will be lit from 5-11 p.m. nightly through Friday, January 1. More info here.
City of Lights Holiday Display (Kokomo, Howard County)
Drive through Highland Park to see more than 50 light displays. Highland Park is located at 900 W Deffenbaugh St, Kokomo, IN 46902. More info here.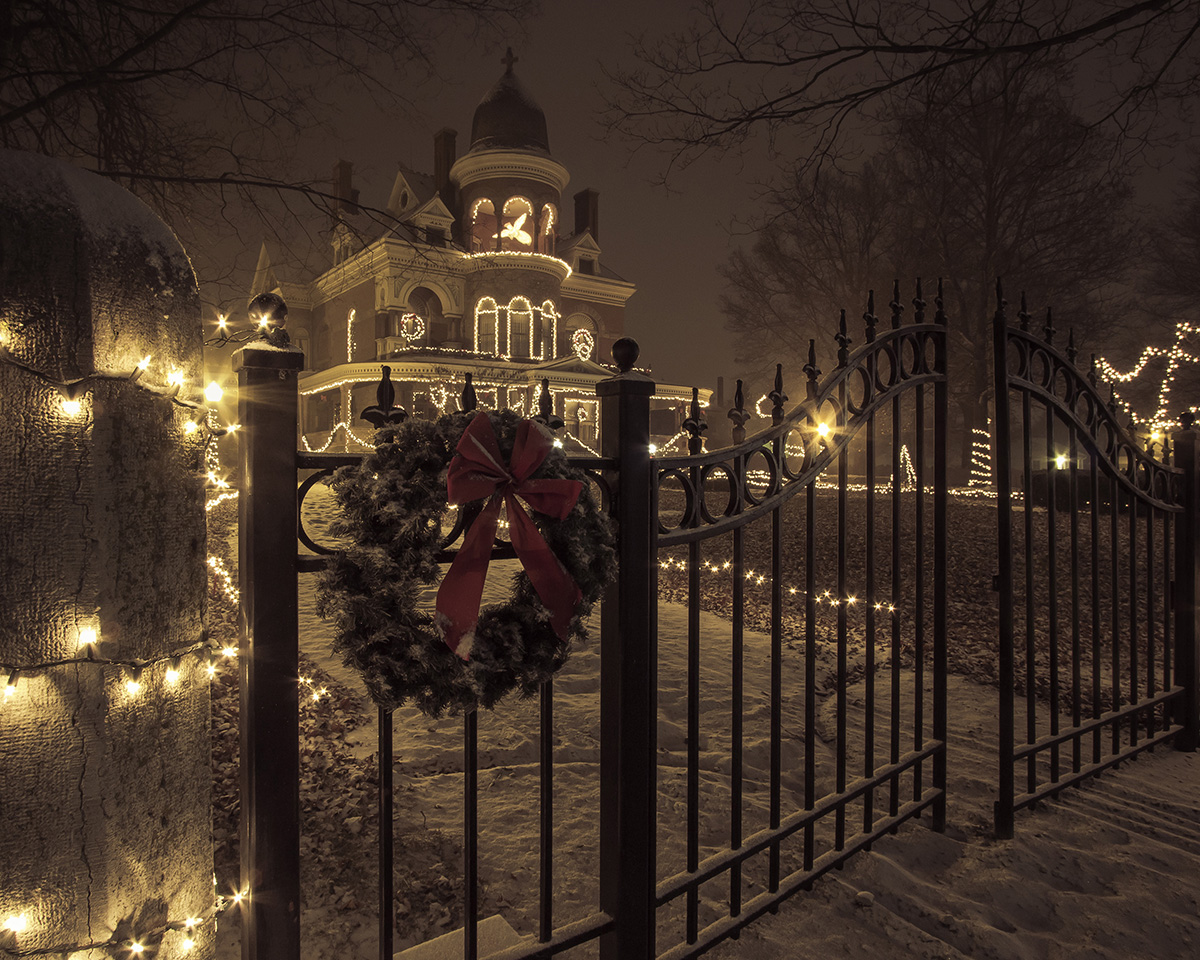 Seiberling Mansion (Kokomo, Howard County)
The Seiberling Mansion in Kokomo is open for tours, but you can also take a virtual tour! Regular hours will be Tuesday-Sunday from 1-4 p.m. starting Nov. 28 through Dec. 31, 2021. Timed tickets can be purchased online for contact-less payment. Admission during Christmas at the Seiberling will be $10 for adults and $5 for children (free admission is a benefit of HCHS membership.)
In addition, Free Sponsored Evenings will be offered on December 2-3, 9-10, and 16-17, 2021 from 4-8 p.m. with limited, timed tickets required for all evening tours. Tickets are available on www.hchistory.org. Masks and social distancing are recommended. Generous sponsors for free evenings include: Community First Bank, Financial Builders Credit Union, First Farmers Bank & Trust, Indiana University Kokomo, Ivy Tech Community College-Kokomo, and Security Federal Bank.
Also, on Saturday, Dec. 18 from 4-8 p.m., guests will enjoy a special "candlelight" evening at the Seiberling with the opportunity to explore the museum in the softer light of a bygone era. Limited, timed tickets are required and can be found online.
A free virtual tour of the mansion will be available via the HCHS's Facebook page starting Nov. 27 at https://www.facebook.com/HCHistory.
The Seiberling Mansion and Elliott House are located in the 1200 block of West Sycamore Street in Kokomo. The mansion is home to the Howard County Museum. Parking lots are accessible via Walnut Street, behind the mansion. Christmas at the Seiberling will continue through Dec. 31, from 1-4 p.m. Tuesday-Sunday. Non-member admission is $10 adults and $5 for students ages 18 & under, with all proceeds supporting the museum and mansion. For more information, call 765-452-4314 or visit their website and Facebook page.
Get more info here.
Walkway of Lights (Marion – Grant County)
From Nov. 20 through Dec. 31, the Walkway of Lights in Marion, Indiana features more than 2.5 million lights on more than 120 displays along the Mississinewa Riverwalk in Matter Park. It is one of the longest running and largest light displays in the Midwest. Entry fee is $5 per car, per visit or $25 Season Pass. More info: https://walkwayoflights.org
Yule Time Stroll (Wabash)
Take a stroll through the beautifully lit Charley Creek Gardens during the holiday season! Free. Open Dec. 13-22 from 6-9 p.m. More info here: https://www.honeywellarts.org/events/yule-time-stroll
Christmas Nights of Lights at the Indiana State Fairgrounds (Indianapolis)
See over 1 million lights synchronized to traditional and newer, rocking Christmas music played through your car stereo. Reservation Required. $30 per car (up to 8 passengers & must ride together in a single vehicle); Group pricing available. 6-10 p.m. through January 2, 2022. More info: https://www.christmasnightsoflights.com/indianapolis
Forest of Lights at Fair Oaks Farms (Fair Oaks, Indiana)
Walk the 1-mile trail in the Forest of Lights!
Opens at 5 p.m. nightly Nov. 19 – January 2. Individual Tickets are $10.00 for ages 13 and older, $6.00 for kids 12 and younger. Ages 2 and younger are free. Family packages for $35 include 2 adult tickets and 2 children's tickets, 2 hot chocolates, and 1 s'mores pack! More info at https://fofarms.com/holiday-season/forest-of-lights-at-fair-oaks-farms/
The Forest of Lights will be closed on Thanksgiving Day, Christmas Eve and Christmas Day.
You'll also find some amazing displays that people in your community have put together as well! Happy Holidays!
Find events happening in Cass and surrounding counties: Cass, Carroll, Fulton, Miami, Pulaski.