Last Updated on March 29, 2020 by Fisher Funeral Chapel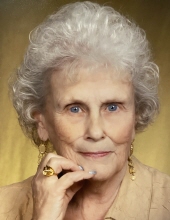 Shirley Ann Shanks, 85, of Logansport, very peacefully went to be with Jesus, with her husband and family by her side, on Thursday, March 26, 2020, in Miller's Merry Manor.

Born on Christmas Eve 1934, in Logansport, Shirley was the daughter of Earl G. and Irene Rosella (Francis) Purcell.

Shirley was a 1953 graduate of Washington Township High School, where she was a cheerleader. Following a county tournament, she went with a group of friends to Shanks' Drive-in on top of College Hill. The carhop just happened to be the owner's son, Bob Shanks. It was love at first sight. On July 5, 1953, in the Union Presbyterian Church, Shirley and Bob were married.

After a short honeymoon, Shirley followed Bob to Camp Stewart, Georgia, where he was stationed in the U.S. Army. The following year they were living in Flushing, New York at an Army base on Long Island when they moved back to Cass County for the birth of their first child. On March 1, 1955, the couple started running the family drive-in and later that year they leased a filling station in Royal Center where they founded the Bob-O-Link Drive-in.

Shirley and Bob were quite the team. They had visited the first McDonald's in Indianapolis back in 1960 and the idea of offering 15-cent hamburgers to their clients was exciting. The wheels started turning in their minds and they approached Emily Studebaker about a 1/3 acre parcel of land on the East end of town. Her son, Bill, liked the idea, and the rest is history. On November 18, 1961, Mr. Happy Burger opened for business. A few years down the road, they opened the West side location. Shirley had a hand in planning the menu with many recipes of her own, like the tartar sauce, Spanish sauce and chili soup. An excellent seamstress, Shirley sewed all the uniforms for the staff at each of the locations. Over the years, she was proud of the many youth activities their business helped sponsor through sports, 4-H and church.

A longtime member of the Shiloh Christian Church, Shirley served the Lord with all her heart, mind and soul. She was a beloved nursery school teacher for years. Her love of music led her to direct the Church Choir and the Children's Choir. She loved directing musical presentations at church. Shirley was active in the Ladies' Aid and always looked forward to Vacation Bible School. She was a member of the Royal Center Chapter of the Order of Eastern Star and had served as Grand Choir Director as a member of the Masonic youth organization, Rainbow for Girls.

Shirley enjoyed working with ceramics and owned and operated "Shirley's Happy Hobby." She enjoyed golfing and entertaining at their home. She would decorate to the nines for the holidays and enjoyed cooking for everyone – whether it was planning open houses, church dinners, mushroom fry's or picnics at the Beef Barn during the 4-H fair. She had an eye for architecture and had helpd design the layout of the restaurant and several family projects. She loved caring for the animals and pets on their family farm. She adored her grandchildren and great-grandchildren and loved supporting them in all of their activities.

Surviving with her husband, Bob, of 66 years, are four children, Sherry (Greg) VanSoest, Logansport, Becky (Reid) Partin, Royal Center, Jeff (Deb)Shanks, Logansport and , Emily "Emy" (Dale) Bridge, Logansport; grandchildren: Jeremy (Kristi) VanSoest, Scott VanSoest, Linnea (Cody) Lebo, Lisa (Neil) Daily, Shae Shanks, Miles Shanks, Morgan Shanks, Bobby (Holly) Bridge, Danny (Angie) Bridge, Eric (Andrea) Bridge; great-grandchildren: Ainslee and Anniston VanSoest, Hallie and Jalynn Lebo, Savannah Daily, Mattingly and Case Bridge, Bennett and Chandler Bridge, and Taylor and Ashton Bridge; nieces, Linnea Whitlow, Jackie Kingery, LuAnn Schoen and Debbie Keys, and nephew, David Francis.

She was preceded in death by her sister Leona (Richard) Woodling, son-in-law, Dave Goltry; and sister-in-law, Patsy (Walter) Hansen.

Shirley was blessed with the loving care of the Miller's Merry Manor staff. Her family would like to express their gratitude to everyone working there, as well as the fellow residents and their families, for making her stay there so comfortable.

A private family funeral service will be held in Shiloh Christian Church. Interment will follow in the Shiloh Cemetery.

A Celebration of Shirley's life will be held at a later date which will be announced in the Pharos Tribune at the appropriate time.

Memorial contributions may be made to the Shiloh Christian Church Building fund or The Boulevard Patient Activity Fund at Miller's Merry Manor.

You may share memories, photos and condolences on Shirley's Tribute Wall at www.fisherfuneralchapel.com These messages will be printed out and placed on the pews of the church so your "presence" will be visible as a part of the family service.

Arrangements have been entrusted to Fisher Funeral Chapel.