Last Updated on September 24, 2020 by Fisher Funeral Chapel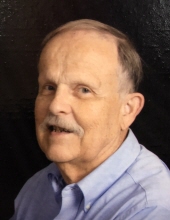 Donel B. Evernham, Logansport, passed away Sunday, September 20, 2020, in the Golden Living Center in Kokomo.
Born May 16, 1940, in Logansport, he was the son of the late Cecil Dean and June B. (Wyant) Evernham.
In November of 1968, Donel was married to Carol Sue (Sholts) Evernham, who survives.
A graduate of Logansport High School, Donel entered the U.S. Navy and served in Germany during the Vietnam War.
Following three years of service to his country, Donel earned his Bachelor degree in Education. He was a lifelong learner and later received is Masters of Science in Education. He first taught in Nappanee then returned to Logansport where he taught at Longfellow Elementary and finished his career teaching at his alma mater, Logansport High School. He was a member of the Cass County Retired Teachers Association.
Donel was a lifelong member of the First U.M. Church. He loved history and was a member of the Cass County Historical Society. Donel collected Depression glassware and unique shot glasses. He was also an avid NASCAR fan.
Surviving with his wife are two nephews, Danny and Duane Seidensticker, of Wisconsin; several cousins, including Doris June Glassburn, of Peru; and two sisters-in-law, Judy Schmitz and Melanie McKinley, both of Austin, Texas; two brothers-in-laws, David Sholts and Michael Sholts, both of Denver, Colorado; and his wife's nieces and nephews, Timothy Wong, Joseph Coppola, Nicole Wong and Rebecca Schmitz.
He was preceded in death by one sister, Deana Jo Seidensticker.
A Funeral Service celebrating Donel's life will be held at 1 p.m. Thursday, September 24 in Fisher Funeral Chapel with Pastor Beth Ann Cook officiating.
Burial, with full military honors, will be in Ever-Rest Memorial Park.
Friends will be received from 11 a.m. until the time of the service in the funeral chapel.
Memorial contributions may be made in Donel's memory to the First U.M. Church or the Cass County Historical Society.
You may share memories and condolences on his Tribute Wall at www.fisherfuneralchapel.com