Last Updated on September 17, 2020 by Fisher Funeral Chapel
Skylar Grey Jackson was born without a heartbeat on Wednesday, September 16th at 4:34 p.m. into the loving arms of her parents, Mackenzie McClory and Alexander Jackson, of Logansport.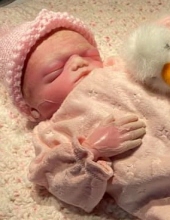 Born at 31 weeks, in Logansport Memorial Hospital, she weighed 3 pounds, 3 ounces – a beautiful, little angel. Skylar's family knew prior to her birth that she had gone to Heaven much sooner than they could have ever imagined. They had hoped to meet her with tears of joy, but instead, they met Skylar with tears of grief.
Surviving with her parents are her maternal grandparents, Shelby and William Rider; her paternal grandparents, Michelle Jackson and Britt Edwards; maternal great-grandparents, Bill and Donna Benedict and Russ and Evon Baker; paternal great-grandparents, Larry and Ruth Young; five aunts: Carly Hall, Lisa Rider, Alexis McClory, Olivia Jackson, and Brittany Edwards, two uncles, Jarrett Rider and Derek Jackson; and many cousins.
A Funeral Service will be held at 2:00 p.m. Friday, September 18 will be held in Fisher Funeral Chapel. Friends will be received one prior to the service.
Interment will follow in Baby Walk located in Mount Hope Cemetery, 1800 Grant Street, Logansport.
You may share your condolences on Skylar's Tribute Wall at www.fisherfuneralchapel.com