Last Updated on October 21, 2020 by Fisher Funeral Chapel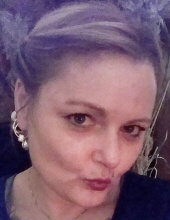 Danielle Lowe, 45, Walton, passed away unexpectedly Wednesday, October 14, 2020, at her home.
Born September 16, 1975, in Terre Haute, she was the daughter of Norman Wesley and Deborah (Overhoff) Lowe.
Danielle loved her cats. She loved to decorate her home and was an avid photographer.
She loved her family so very much. Danielle is survived by her daughter Alijah Gonzalez-Cervantes and her husband, Horacio Gonzalez, Logansport; her son, Jace Andrew Rist, Walton; her mother and step-father, Deborah and Jerry Parson, Logansport; one brother Lee Lowe, California; and her precious granddaughter, Orbella May.
In addition to her father, Danielle was preceded in death by a brother, Scott Lowe.
A Funeral Service celebrating Danielle's life will be held at 10:30 a.m. Thursday, October 22 in the chapel at Mount Hope Cemetery. Burial will follow the service. Friends may call from 10 a.m. until the time of the service at the cemetery chapel.
Arrangements have been entrusted to Fisher Funeral Chapel. Memorial contributions may be made to the funeral home to assist her family during their time of need .
You may share memories and post condolences on her Tribute Wall at www.fisherfuneralchapel.com.