Last Updated on October 14, 2020 by Fisher Funeral Chapel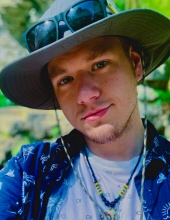 Derek Scott Jackson, 23, Logansport, a young man who could light up a room with his smile, battled an inner demon that not many people knew about: depression, The pain and suffering that he was enduring was more than any of us ever imagined and Derek ended his own life at home early Monday morning, October 12, 2020. "His soul is finally at peace."
On November 25, 1996, Logansport, he entered this world as the firstborn son of Scott Jackson and Michelle (Young) Jackson.
Derek was a 2015 graduate of Logansport High School. Derek was gifted with a very vibrant persona that drew people to him. He had a heart of gold and a beautiful soul. He leaves behind many, many friends.
An amateur photographer, Derek was able to capture the beauty of his surroundings effortlessly. He had an eye for the perfect angle. He owned anything ever made by Apple and was a certifiable geek when it came to technology – he loved it. Derek enjoyed being outdoors. He was very close to his sister, Olivia, and brother, Alex, and enjoyed spending time with them.
Derek will be forever loved and missed by his parents, Michelle Jackson and Britt Edwards, of Logansport, and Scott and Vickie Jackson, of Elkhart; his maternal grandparents, Larry and Ruth Young, of Walton; his siblings, Alexander Jackson (Mackenzi McClory), Olivia Jackson, Brittany Edwards, and Victoria, Sean and Devon Singleton; two nieces who were more like sisters to him, Savannah Tannenbaum and Kinsey Calloway; aunts and uncles: Tricia (Brett) Harris, Kelly (Bryan) Young, Butch (Kelly) Young and Ben Jackson; two nephews and one niece: Colton, Jaxon and Emerianna Singleton; and several cousins. He absolutely loved his cats and his dog, Theodore.
He was preceded in death by his paternal grandparents, Shafter and Ollie Jackson; siblings, Tyler Edwards and Crystal McDaniel; and his baby niece, Skylar Grey Jackson.
A Funeral Service celebrating Derek's life will be held at 10:30 a.m. Saturday, October 17, 2020 in Fisher Funeral Chapel. Derek never liked black or formal attire – he was more of a free spirit – so you are encouraged to dress in bright colors. He loved anything tie-dye.
Burial will follow in Mount Hope Cemetery.
Friends will be received from 2 to 8 p.m. on Friday, October 16 in the funeral chapel.
You may share memories and words of comfort where everyone can read them on Derek's special Tribute Wall at www.fisherfuneralchapel.com
Memorial contributions may be made to the American Foundation for Suicide Prevention. We pray that anyone reading this who suffers from depression or has ever thought of suicide, please reach out to your friends and family or talk to someone who can provide you with professional help. Call 800-273-8255 (TALK) or text TALK to 741741.
National Suicide Prevention Lifeline
We can all help prevent suicide. The Lifeline provides 24/7, free and confidential support for people in distress, prevention and crisis resources for you or your loved ones, and best practices for professionals. If reading Derek's obituary can save a life – that is his family's prayer.. Please share.