Last Updated on October 16, 2020 by Fisher Funeral Chapel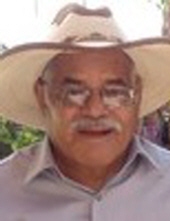 Edmundo Alvarado Leon, 75, Logansport, passed away at 8:04 p.m. Wednesday, October 14, 2020, in the Franciscan Health Lafayette East Hospital.
Born November 6, 1944, in La Cinta, Michoacán, he was the son of the late Pedro Leon and Zenaida Leon.
On December 18, 1965, he was married to Maria Belen Alvardo Hernadez, who survives.
Edmundo was a member of the All Saints Catholic Church.
Surviving with his wife are ten children: Anita (Jose) Valencia, Martin Alvarado, Maria G. (Jose M.) Ortiz, Olga (Lucio) Zavala, Heriberto Alvarado, Efrain (Nancy) Alvarado, Erica (Gustavo) Nunez, Maurilio (Veronica) Alvarado, Maria (Alfredo) Galvan, and Jose (Daisy) Alvarado. A son, Jose Alfredo Alvarado, preceded him in death.
Also surviving are many blessing he called "grandkids", Maria Ruiz, Salvador Ruiz, Diego E. Valencia, Juana Valencia, Noe Valancia, Wendy Valencia, Yesenia Buenaventura, Rogelio Buenaventura, Lizet Alvarado, Emilio Dominguez, Yanet Alvarado, Andres Alvarado, Gabriela Vazquez, Selena Alvarado, Cristal Alvarado, Yesica Hernandez, Reyes Hernandez, Daniel Zavala, Armando Zavala, Keven Zavala, Karen Alvarado, Jorge Alvarado, Sindia Alvarado, Alexa Alvarado, Camila Alvarado, Efrain Alvarado Jr., Jennifer Nunez, Jocelin Nunez, Yadira Alvarado, Govany Alvarado, Angel Alvarado, Natalie Galvan, Christopher Galvan, Johan Galvan, Valeria Alvarado, Isabella Alvarado, and Monserrat Alvarado.
Edmundo was proud to be a great-grandpa to Jovany Ruiz, Moises Ruiz, Emiliano Valencia, Jasmine Buenaventura, Ximena Buenaventura, Julietta Buenaventura, Lionel Valencia, Melanie Hernandez, Bryan Hernandez, Leandro Dominguez Alvarado, Gloria Dominguez Alvarado, and Naomi Alvarado Vasquez. Two great-grandchildren preceded him in death, Matthew Valencia and Liam Hernandez.
Edmundo is survived by his brothers, Marcos Alavardo and Rodolfo Alvarado. Sadly, his other siblings preceded him in death: Jesus Alvarado, Avigail Alvarado, and Antonia Alvarado.
Friends will be received from 2 to 8 p.m. Saturday, October 17 in Fisher Funeral Chapel. There will be a second visitation of Sunday, October 18, also in Fisher Funeral Chapel.
A Mass of Christian Burial is tentatively set on Monday at All Saints Catholic Church. Please check back for the time of the service.
Burial will follow in the Mount Hope Cemetery, Logansport.
You may share memories and condolences on Edmundo's Tribute Wall at www.fisherfuneralchapel.com.