Last Updated on October 12, 2020 by Fisher Funeral Chapel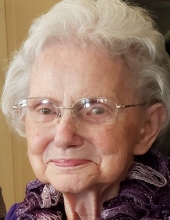 Helen E. Shanks, 89, Logansport, passed away peacefully Friday morning, October 9, 2020 in Memorial Hospital due to complications of Covid 19-and pneumonia.
Born April 17, 1931, in Carroll County, Indiana, she was the daughter of the late Russell and Marjorie (Walker) Wilson.
On March 12, 1950, in the former Market Street United Methodist Church, she was married to John J. Shanks.
Helen was a 1949 graduate of Logansport High School. Outside of the home, Helen had worked at Olson's Department Store, Franklin Elementary School Lunch Patrol, and for 21 years at Switches/Federal Mogul retiring in 1993.
The role Helen cherished most was that of a homemaker – caring for and loving her family. She was happiest when all of her family was home and sitting around the dining room table visiting and laughing. In her later years, when Alzheimer's set in, Helen's sweet nature carried her through many trials. As long as she had Mia (baby doll) in her arms she was happy, for Helen loved being a mother and grandma.
Surviving with her husband, John, of 70 years, are three children: Cindy (Herb) Novotny, Winona Lake, Marcy (David) Abel, Carmel, Tony Shanks, Logansport; five grandchildren: Katie Abel, Ben (Annie) Abel, Taylor Shanks (Brandon Memmer), Tanner Shanks, Heather Sutton; great-grandchildren: Graham Shanks and Audra Shanks; two step-grandchildren: Kathy (Gerald) Munger, Nick (Xalina) Novotny; three step-great-grandchildren: Alexandria (Brian) Macan, Cole Munger, Jake Munger; and two sisters: Mary Zinn (Flora) and Karen Fellers (West Terre Haute).
Helen was preceded in death by her siblings: Jack Wilson, Richard Wilson, and Sondra Hess.
The family would like to thank the doctors and staff of Logansport Memorial Hospital and Guardian Angel Hospice for the love and care shown to Helen and her family during the final days of her life.
Private family services will be held. Interment will be in the Ever Rest Memorial Park, Logansport.
Memorials may be expressed with a contribution to the Wheatland Avenue United Methodist Church, 440 Wheatland Avenue, Logansport, IN 46947, of which Helen was a member for many years.
You may share memories and condolences on Helen's Tribute Wall at www.fisherfuneralchapel.com.