Last Updated on October 14, 2020 by Fisher Funeral Chapel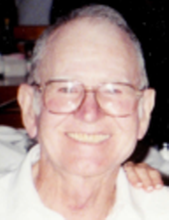 James J. Smith, 95, Logansport, passed away on Monday, October 12, 2020, in Chase Center with his wife and daughter by his side.
Born August 7, 1925, in Logansport, he was the son of the late Roy B. and Delouris (Beale) Smith.
On April 26, 1952, he was married to Mary Jean (Hawkins) Smith.
Jim was a 1943 graduate of LogansportHigh School, Jim attended Purdue University. He was proud to be a WWII veteran of the United States Navy, serving on naval bases in North Carolina and the South Pacific.
In 1989, Jim retired from RBM (United Technologies) after 43 years of employment. He was a design engineer and had two patents.
Jim was a longtime member of Wheatland Avenue United Methodist Church who faithfully served as an usher for many years. He was a member of the American Legion Post 60 and the Veterans of Foreign Wars Post 3790. Jim belonged to several fraternal organizations including Lognapsort's Tipton Masonic Lodge #33, the Scottish Rite Valley of Indianapolis, the Murat Shrine in Indianapolis, Logansport York Rite and the Logansport Elks Lodge #66.
Jim was a natural athlete who enjoyed many sports, his favorite was baseball. His idol was Lou Gehrig and his favorite team was the New York Yankees. Some of his happiest times were when he managed and coached the RBM Little League team, "The Shamrocks." He also enjoyed playing 2nd base for the Shamrocks softball and Eagles hard ball teams in his earlier years. During his time in the Navy, his Pacific Team was awarded the championship title in baseball. Jim also enjoyed spending time on the greens with his golfing buddy, Joe Titus, clear up to this current year. One of his favorite traditions was making fudge at Christmas time with his family.
Surviving with his wife of 68 years are three children: Susan E. Smith, Rockledge, Florida, and Lou Smith, and Matt Smith, both of Logansport; one sister, Joan Foster, Logansport; three granddaughters and their families, Emily (Kurt) Brandstetter, Jamie Nies, and Julie Layman, all of Logansport; several cousins; and an especially close cousin, Lynda Gust, of Bradenton, Florida.
He was preceded in death by an infant sister, Lucille, and brothers, Bob, Tom and David Smith.
A Memorial Service will be held at noon on Saturday, October 17 in the Wheatland Avenue United Methodist Church, 440 Wheatland Ave, Logansport, with Pastor Bert Stover officiating.
Interment, with full military honors, will be at 3:00 p.m. in the Rockfield I.O.O.F. Cemetery.
Memorial contributions may be made to the Wheatland Avenue United Methodist Church.
Arrangements have been entrusted to Fisher Funeral Chapel. You may share memories and condolences on Jim's Tribute Wall at www.fisherfuneralchapel.com.