Last Updated on October 6, 2020 by Fisher Funeral Chapel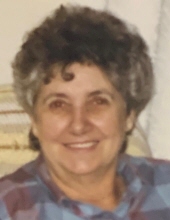 Kyra L. Evans, 90, Logansport, passed away peacefully on Wednesday, September 30, 2020, in Chase Center following a 13-year battle with Alzheimer's.
Born August 1, 1930, in Buffalo, Indiana, she was the daughter of the late John and Nellie (Malone) Shields.
She was married to Ronald L. Evans who preceded her in death on April 27, 2018.
A graduate of Buffalo High School, Kyra continued her education at the Logansport Business College. She worked as a nurse's aide at the State Hospital, Camelot Care Center and Chase Center.
Her family would like to thank the staff of Chase Center as well as fellow patients, their families and those volunteers and organizations for their compassion and care over the past three years.
She is survived by four sons; John, Jeff and Jim, all of Florida, Steve (Deb) Boatright, Peru; Jeri (Tom) Sadler, Peru; four grandchildren: Jamie Townsend, Chris Sadler, Tanya (Allen) Davis, and Brooke Boatright; and ten great-grandchildren: Chelsey, John, Katie, Lucas, Gabriel, Tristan, Kimmie, Jacob, Abby and Odyssey.
In addition to her husband and parents, she was preceded in death were five siblings: Singer Shields, John Dale Shields, Betty Roberts, Ruth Mae and Dan Shields; and one granddaughter, Lisa Eastham.
A graveside service will be held at 2 p.m. Monday, Oct. 12 at Buffalo Cemetery.
Arrangements have been entrusted to Fisher Funeral Chapel & Cremation Services.
You may share memories and words of comfort on Kyra's Tribute Wall at www.fisherfuneralchapel.com.