Last Updated on October 18, 2020 by Fisher Funeral Chapel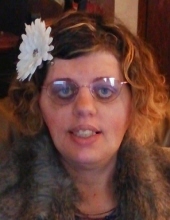 Marsha A. Linback, 55, Logansport, passed away on Saturday, October 17, 2020, in Chase Center.
Born February 23, 1965, she was the daughter of the late Robert F. and Mary (Boehme) Linback.
A graduate of Logansport High School, Marsha worked as and assembler for Peak Community Services.
Marsha was a member of LifeGate Church and looked forward to going to church. Her church was an extension of her family. She was a very loving and caring person to everyone she met – she did not know a stranger. She loved butterflies and her favorite color was lavender. She enjoyed shopping and just hanging out with her friends.
Marsha is survived by her siblings, Melissa Tonwsend, of Peru, Sherry Linback of Logansport (David Stewart of IL.), and Kelly (Kristipher) Royer of Logansport; and several nieces and nephews; and great-nieces and great-nephews.
She was preceded in death by two brothers, Rob and Jeff Linback.
A Funeral Service celebrating Marsha's life will be held at 2 p.m. Thursday, October 22 in Fisher Funeral Chapel.
Burial will follow in Mount Hope Cemetery.
Friends will be received from noon until the time of the service on Thursday in the funeral chapel.
Memorials are suggested to the LifeGate Church.
You may share memories and condolences on Marsha's Tribute Wall at www.fisherfuneralchapel.com.