Last Updated on October 14, 2020 by Fisher Funeral Chapel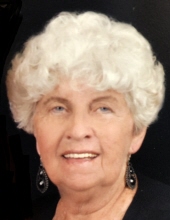 Sharon Jean Barr, 85, Logansport (Lake Cicott), went to be with Jesus at 2 p.m. on Tuesday, October 13, 2020, surrounded by family.
Born September 3, 1935, in Cass County, she was the daughter of the late Carl and Elizabeth (Masten) Million.
A 1953 graduate of Royal Center High School, Sharon furthered her education at Methodist Hospital School of Nursing and graduated in 1956 as a registered nurse.
On August 26, 1956, in the Pisgah Church, Sharon married the love of her life, Robert J. "Bob" Barr, who survives.
Sharon began her career in nursing for two years at the St. Joseph Hospital in Logansport. For over 31 years, she worked in nursing at Logansport Memorial Hospital where she retired in 1993 as a surgical nurse. Sharon had also worked as a substitute nurse with the Pioneer and Logansport School Corporations.
A devoted member of Pisgah Church since 1953, Sharon played the organ and piano for church services for over 64 years. She was a beloved Sunday School teacher and youth group leader for many years. She had also served the church missionary program. Sharon dearly loved serving her Lord and Savior with her family in Christ.
Sharon was a "people person" who loved being involved in the community. When her children were young, she was involved with Boy Scouts and Girl Scouts. She was a member of the Jefferson Township Extension Homemakers Club and had been named "Homemaker of the Year." She used her medical skills outside of work by serving as a board member for the American Red Cross and the Mental Health Association. Sharon also served on the Salvation Army Board for a number of years and loved volunteering with their community programs.
Sharon loved sports – especially when it came to her grand and great-grandchildren's sporting events. She was one of the Pioneer Football team's most devoted fans. She loved watching the NBA on television and was a huge Pacers fan. Over the years, she had a special admiration for Michael Jordan and his skills which led her to collect MJ memorabilia. Sharon also loved collecting angels, nativity scenes and Indian keepsakes. Sharon was a world-traveler and along with her husband, she had traveled to 44 countries and all 50 states.
Surviving with her husband, Bob, of 64 years, are four children: son, Mike (Jennifer) Barr, and daughters, Tammy (Mike Quick) Lewellen, Kim (Robert) Baker, and Deb (Mike) Swartzell; grandchildren: Bridget (Matt) Hayden, Ryan (Stephanie) Lewellen, Blaine (Kristen) Brew, Kris (Maria) Barr, Tanna (Andrew) Shafer, Kayla (Dallas Brown) Swartzell, Kelsey (Patrick Franzenburg) Barr, Braxton (Amanda) Baker, William Barr, Oakley (Jenna) Lewellen, and Owen Swartzell; great-grandchildren: Mason, Grace and Mya Hayden, Ezra, Addai, and Ayla Lewellen, Gavin, Griffin and Lenea Brew, Evie, Caroline, and Vada Shafer, Beau and Ben Barr, Ryker and Elijah Lewellen, and Levi Baker; one brother, Butch (Sharon) Million; one sister, Karen (Jerry) Roller; two sisters-in-law, Lucille (Gerald) Berkshire and Dorothy (Dale) Packard; and several nieces and nephews. Over the years, Sharon welcomed nine exchange students to live with them and considered them as extended family: Annette, Fran, Alfredo, Sarah, Sandy, Claudia, Matt, Adrian and Ashley.
She was preceded in death by a great-granddaughter, Miciah Lewellen; a sister-in-law, Margie Bow; a brother-in-law, Charlie Bow; and her great-niece, Angie Roller.
Private family funeral services will be held in Pisgah Church with her grandson Pastor Ryan Lewellen officiating. Pastors Larry Phillips and Paul Scott will assist. The North Central Indiana Nursing Honor Guard will conduct a ceremony prior to the funeral. Burial will follow in Pisgah Cemetery.
A Celebration of Life will be held at 4 p.m. on the following weekend on Sunday, October 25 in Pisgah Church. Friends will be received from 2 p.m. until the time of the service in the church.
In lieu of flowers, memorial contributions in Sharon's memory may be made to the Pisgah Christian Church or the Guardian Angel Hospice Foundation.
Arrangements have been entrusted to Fisher Funeral Chapel. You may share memories, photos and condolences on Sharon's Tribute Wall at www.fisherfuneralchapel.com.