Last Updated on November 21, 2020 by Fisher Funeral Chapel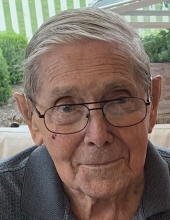 Dale Keith Packard, 90, Logansport, passed away Tuesday, November 17, 2020, at Community Howard Regional Hospital.
Born October 14, 1930, in South Bend, he was the son of the late Arrol Edar Packard and Margaret Elizabeth (Skelton) Packard.
On August 1, 1970, at the Pisgah Christian Church, he was married to Dorothy L. (Barr) Packard, who survives. The couple had met at the Logansport Airport where Dale was working at the time. Their marriage united two families with a deep love of flying that has resulted in wonderful memories and travels over the years.
A 1948 graduate of Young America High School, Dale entered the United States Army in 1951 during the Korean War. He was a proud veteran of the 187th Airborne Regiment Combat Team known as the "Rakkasans." After being honorably discharged from active duty, Dale continued to serve in the Army Reserves for eight years. Dale was a member of the American Legion Post 60.
Dale began working at Myers Springs in automatic coiler manufacturing and then for nearly 18 years, he worked at Logan Machine as a turret lathe operator. He retired from Weldstar after nearly twenty years in sales and bookkeeping.
A member of the Pisgah Christian Church, Dale was the epitome of a man with his priorities in perfect order: God, Family, Country. His grandchildren kept him young and he enjoyed attending their sporting events and activities. He dearly loved being a grandpa.
Dale was a huge NASCAR fan. He held a private pilot's license and had built several of his own airplanes. He also loved flying model airplanes. Dale was a member of EAA – the Experimental Aircraft Association.
Surviving with his wife of 50 years, Dorothy Packard, are two sons, William Robert (Tabatha) Packard, Logansport, and Jeffrey Allen (Sara) Packard, Walton; grandchildren: McKenzie, Dalton, Hunter, Avery, Aiden, Olivia, Joshua, Nathan, and Madison Packard; three sisters, Sue "Betty" (Earl) Vetor, of Anderson,Shari (Les) Wood, of Lenexa, Kansas and Fairy Linda (Robert) Kemp, Brownsburg; two sisters-in-law, Doris Packard, Logansport, and Lucile (Gerald) Berkshire, Logansport; one brother-in-law, Robert "Bob" Barr, Logansport; and several nieces and nephews.
He was preceded in death by one brother, Gareth Arrol Packard, and two sisters-in-law, Sharon Barr and Margaret (Charles) Bow.
A Funeral Service celebrating Dale's life will be held at 3 p.m. Saturday, November 21 at Pisgah Church with his nephew, Pastor Ryan Lewellen officiating.
Interment, with full military honors, will follow in the Pisgah Cemetery. The Kokomo Police Department Honor Guard will participate with their presence as well.
Friends will be received from 1 p.m. to the time of the service in the church.
Contributions may be made to the Pisgah Christian Church