Last Updated on November 17, 2020 by Fisher Funeral Chapel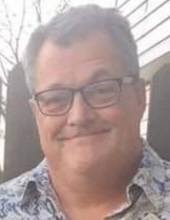 Douglas Kirk Spaulding, 63, Logansport, passed away at his home north of Clymers on Thursday, Nov. 12, 2020, from injuries sustained in a tragic accident while working on his car.
Born January 10, 1957, in Logansport, Doug's family moved to Monticello where he attended Woodlawn Elementary School. He was a 1975 graduate of Twin Lakes High School
On November 20, 1998, at the Chapel of the West in Las Vegas, he was married to Barb (Devine) Spaulding, who survives. The couple met on a blind date arranged by Barb's friend, Becky Peattie Brugh.
Doug had a brilliant mind when it came to being mechanically inclined – he was always one to think outside of the box and be a problem solver. He loved to create things and was working on projects with his 3-D printer. He started out as a plumber then learned the skills needed to work on HVAC Systems. In 2019, he retired from his career as an independent HVAC contractor. He continued to work as needed to trouble shoot any equipment problems his industrial clients had. Doug and Barb started their own company in the basement of their former home making radiant flooring for the Infloor Company. The business grew and the couple relocated their workshop to their current location in Clymers.
An avid fisherman, Doug's favorite spot to fish was in the beauty of Minnesota. He shared his passion with his children, before they could walk they were along for the ride in their playpen on his boat. Doug loved the water and his favorite fishing tale took place in Newport Beach, California, when he caught a 3-1/2 foot shark by grabbing it's tail as he was swimming in the ocean. The lifeguard frantically made him release it as it could have easily taken off his arm. Each time Doug told the story, like most fisherman, the shark got a little bigger. Following his retirement, Doug and Barb enjoyed traveling, especially to Puerto Rico. They had recently visited Cancun and Washington DC.
Doug loved his family very much. Surviving with his wife of 22 years, Barb Spaulding, are his mother and stepfather, Rita (Grauel) and Bob Kuester, of Dent, Minnesota; his step-mother, June Spaulding, Elwood; his daughters, Debra "Debbie" Spaulding (Steve Frost), Indianapolis, and Misty (Rob) Lavigne, Dallas, Texas; stepson, Jeff Grismore, Peru; granddaughter, Lilly Spaulding and her mother, Angela "Niki" Magers, Indianapolis; great-grandchildren, Steve Frost III and Kayla Frost and their mother, Ashley Mills, of Greenwood; and his mother-in-law, Sandy Devine, Lake Elsinore, California.
He was preceded in death by his father, James "Jim" Spaulding; his son, Robert "Bob" Nelson Spaulding; one brother, Bradley Clifford Spaulding; and his grandson, Steven Frost II.
In honoring his wishes, Doug's body will be cremated with a portion of his cremains scattered in his favorite fishing hole in Minnesota. His final resting spot will be in the Young Creek Cemetery, in Franklin, beside his son, Bob. A Celebration of Life, at a later date, will be held at his gravesite.
Arrangements have been entrusted to Fisher Funeral Chapel and Cremation Services. You may share memories, photos and condolences on Doug's Tribute Wall at www.fisherfuneralchapel.com