Last Updated on November 9, 2020 by Fisher Funeral Chapel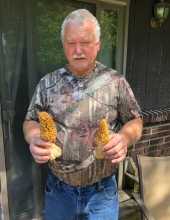 Matthew James Mannies, 56, rural Logansport, passed away unexpectedly on Saturday, November 7, 2020, at the IU Arnett Hospital after suffering a heart attack.
Born December 1, 1963, in Peru, he was the son of the late Harrold and Thelma (Rogers) Mannies.
In 1979, 14-year-old Jackie Vigar and her family moved into Matt's neighborhood. When she first laid eyes on him, Jackie knew Matt was the man she would marry someday. On May 15, 1982, in Wabash County, Matt and Jackie were married. In just a matter of a couple days, Matt graduated from North Miami High School, got married and embarked on a 38-year career in the trucking industry.
At the time of his death, Matt worked for DHL as a truck driver. He was a hard worker with an excellent safety record. As a young boy, Matt was mentored by Harold Personett, of Gilead, who has been a life-long friend and father-figure.
Matt was a member of the Center Presbyterian Church where he served as an Elder and was a devoted disciple of Christ. He loved the outdoors whether it was hunting, fishing or horseback riding, Matt was in his element when he was surrounded by the glory of God's handiwork. He was also a beekeeper and an avid mushroom hunter. Matt was a member of the Moose Lodge. During high school, Matt took building trades and used the skills he learned to build the family home from the ground up. Honest, fair, humble, all those qualities rolled into one – Matt was an amazing husband, father, "Pappaw", brother and friend.
Surviving with his wife of 38 years, Jackie Mannies, are three children: Philo (Amanda) Mannies and Tyrel (Hayli) Mannies, all of Logansport, and Megan (Brian) Hammond, of Edinburgh; his much-loved grandchildren: Shalyn Barnard and Colton Mannies, Cole Crissinger, Coty Crissinger, Brea Langley, Levi, Nate, Noah, Jake, and Ava Mannies, and Nyetta and Mila Hammond; honorary grandchildren, John-Luke, Clyde-Owen and Cole Henry Keiser; mother-in-law, Nokie Vigar; siblings, Rita Sue (Willard) Manns, Schery Lynn (Bruce) White, Montie Ross (Teresa) Mannies, Mira Jean (Lorenzo) Leon, Velvet Vena (Dale) Bowser, Beth Ann (Donald) Hopkins, and Shanen Doah (Darla) Mannies; and numerous nieces and nephews.
In addition to his parents, Matt was preceded in death by two sisters, Becky Jo Mannies and Mona Rea Holland; and his father-in-law, Curt Vigar.
In honoring Matt's wishes, there will be no services.
In lieu of flowers, memorial contributions may be made to the Center Presbyterian Church, 8157 West Co Road 250 North, Logansport or the Izaak Walton League, 1046 N. State Road 17, Logansport.
Arrangements have been entrusted to Fisher Funeral Chapel and Cremation Services. You may share memories and condolences on Matt's Tribute Wall at www.fisherfuneralchapel.com.