Last Updated on November 2, 2020 by Fisher Funeral Chapel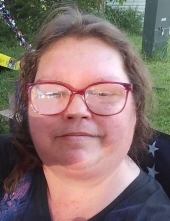 Melanie M. Vickers, 45, of Logansport, passed away unexpectedly at 6:44 a.m. Monday, November 2, 2020, in the emergency room of Logansport Memorial Hospital.
Born March 22, 1975, in Willoughby, Ohio, she was the daughter of Debbie Meyer, of Florida, and Walter Meyer, of Tennessee. Her biological father, Daniel Greenly, resides in Florida.
On May 4, 1993, she was married to Gary Vickers who survives. The couple celebrated their 27th wedding anniversary this past spring.
Melanie faced many health challenges having been diagnosed with Buerger's Disease which affected the veins and arteries in her limbs, multiple sclerosis, diabetes and a stroke at age 41 which left her unable to work. She was not one to give up easily and she fought to the very end – making changes and trying to improve her health
Before her disability, she was a computer genius. She enjoyed virtual poker on her PlayStation and loved Monopoly. She and her husband recently moved to Logansport in March after living in Florida most of her life.
Surviving with her husband are two children: Michael Vickers and Kira Vickers, both of Florida; one brother, Gregory Meyer, of Florida; and one grandchild, Dillon Vickers, also of Florida.
.A private family gathering will be held in their home. Arrangements have been entrusted to Fisher Funeral Chapel & Cremation Services.
Memorial contributions may be made to Melanie's funeral fund by clicking the link below. All contribution, no matter the amount, are greatly appreciated.
You may share memories and words of comfort to her family on Melanie's Tribute Wall at www.fisherfuneralchapel.com.