Last Updated on November 12, 2020 by Fisher Funeral Chapel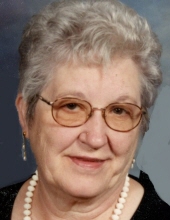 Rita Bernice Hall, 83, rural Logansport, passed away Monday, November 9, 2020, in Ascension St. Vincent Hospital.
Born at home on March 12, 1937, in the little Cass County town of Kenneth, Rita was the daughter of the late Rolla and Garnet (Kistler) Nethercutt.
Rita was a graduate of Royal Center High School.
On May 3, 1958, in Logansport, she was married to Jouett "Jack" Hall, who preceded her in death October 23, 2011.
Rita often recalled her first job working at the soda fountain at Kresge's as one of her favorite memories. Later in life, she worked at General Tire and Switches.
Rita was a member of the Pisgah Christian Church. She and her husband loved to dance and had been members of the Bridge City Squares. Rita was an excellent seamstress who could sew just about anything. She loved crocheting and making dolls. Rita was always ready to go shopping or to a favorite restaurant. She especially loved to "go up north." She enjoyed having the grandchildren spend the night and baking up all sorts of goodies for them to eat. Family was paramount to Rita – a devoted wife, she was a wonderful mother and grandmother to not just her own family but to many others.
She is survived by three children: Vada (Tom) Hulsey, Phil (Ruby) Hall and Beth (Ed) Holcomb, all of Logansport; one son-in-law, Steve Adams, Pennsylvania; two step-daughters, Darlene (Cliff) LaPere, Missouri, and Lurlene (Larry) Tabler, Logansport; one brother, Fred Nethercutt, Lucerne; four sisters, Doris Slusser, Alabama, Lila Carmichael, Logansport, Linda Lanids, Burnettsville, and Connie Johns, Monticello; her pride and joy – thirteen grandchildren: Kristi Weston, Mike Haynes, Jacqueline Hulsey, Gary Hulsey, Kayla Erickson, Ryan Hall, Angie Keller, Zack Holcomb, Aron Holcomb, Doug Nethercutt, Kevin Nethercutt, Roger Nethercutt, Tammy Munns and Chelly Landis; fifteen great-grandchildren with one on the way; and several great-grandchildren.
She was preceded in death by one daughter, Lacrecia Adams; six brothers: Howard, Ronna, Danny, Frank, Tom and Dennis Nethercutt; and two sisters, Eva Shepard and Patty Williams.
A Funeral Service celebrating Rita's life will be held at 1 p.m. Thursday, November 12 in Fisher Funeral Chapel with her nephew, Rich Carmichael, officiating.
Burial will follow in the Pisgah Cemetery.
Friends will be received from 11 a.m. Thursday until the time of the service in the funeral chapel.
You may share memories and condolences on Rita's Tribute Wall at www.fisherfuneralchapel.com.