Last Updated on December 13, 2020 by Fisher Funeral Chapel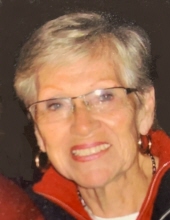 Corina "Sandy" Hedger Gundrum, 88, of Logansport, passed away Monday, December 7, 2020, at Bloom Kokomo Senior Living Center.
Born October 28, 1932, in Stanton, Kentucky, she was the daughter of the late Rev. Shelby and Liza Jane (Howell) Townsend.
On July 29, 1959, in the Helm Street Church of God, she married Ernest R. Hedger. He preceded her in death August 28, 2003.
On March 3, 2006, she married William "Junior" Gundrum who preceded her in death April 21, 2012.
A 1950 graduate of Washington Township High School, Corina worked as an accountant for many years.
A member of the Church of God, Corina had a beautiful heart and a deep faith. Growing up as the daughter of a pastor, she had a life-long love for Bible study. Her family was her world and she loved them dearly.
A Past Worthy Matron of the Order of Eastern Star, Corina made many friends though Masonic affiliations. She was also a member of the American Legion Post 60 Auxiliary.
Corina enjoyed camping, traveling, Bingo, puzzles and bowling. She loved Country and Gospel music and had developed the musical gift of yodeling. One of her favorite activities was shopping with her daughters.
Surviving are her daughters, Cheryl (Stan) Lynas, and Cindy (Jeff) Baber, all of Walton; her sons, Mike (Leesa) Hedger, Kokomo, and Kevin (Vickie) Hedger, Lafayette; one brother, Bob Townsend, Texas; one sister, Loretta Marra, Fishers, Indiana; grandchildren: Heather (Jesse) Shafer, Kendra Sommers, Kane (Rachel) Lynas, Joel (Kristen) Baber, Jacob (Lynette) Baber, Dylan Hedger; three step-grandchildren, Timothy (Miranda) Knight, Brandy (Firas) Baklouti, and Christina (Rex) Voigt; eighteen great-grandchildren; and several great-grandchildren.
She was preceded in death by seven siblings.
A Funeral Service celebrating Corina's life will be held at 11 a.m. Friday, December 11 in Fisher Funeral Chapel with Pastor Bill Collins officiating.
Burial will follow in the Ever-Rest Memorial Park.
Friends will be received from 9 a.m. to 11 a.m. prior to the service Friday in the funeral chapel.
In lieu of flowers, the family requests that memorial contributions may be made to the Huntington's Disease Society of America and the Turner Syndrome Foundation.
You may share memories, photos and condolences on Corina's Tribute Wall at www.fisherfuneralchapel.com.