Last Updated on December 2, 2020 by Fisher Funeral Chapel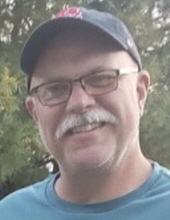 Herbert Jeffrey Ayers, 55 of Logansport, was surrounded by his family in the comfort of his home when he passed away Monday, November 30, 2020, following a recent diagnosis with esophageal cancer.
Born July 10, 1965, in Taylor, Texas, he was the son of Herbert Junior and Lois (Chadwell) Ayers. His father survives in Noblesville.
A graduate of Noblesville High School, Jeff had attended Purdue University before enlisting in the United States Air Force.
On August 15, 1985, in Aurora, Colorado, Jeff married his high school sweetheart, Dana Ann (Luchini) Ayers, who survives.
Jeff was employed as an operations technician for LMU at the wastewater treatment plant.
To many, he was also known by his first name, "Herb." His family meant the world to him. Jeff loved to spend time on his home's wrap-around porch just enjoying the birds, his dogs, and the outdoors. Their mini-farm was home to any animals his kids wanted to raise, and they had many – horses, goats, emus, chickens, turkeys, guinea pigs and of course, his beloved dogs. He would often purchase dog food for the Humane Society and "fall in love" with dogs needing a home. He was an avid St. Louis Cardinals fan as well as an Alabama fan. Jeff was his children's #1 fan in any activity in which they participated. Jeff was a "gentle giant" with an endearing sense of humor and a smile that would light up a room.
Surviving with his wife and his father are two children and their spouses, Zach and Ashley Ayers, of Carmel, and Anna and Derick Morris, of Logansport; one brother and sister-in-law, Chad and Jaymee Ayers; and his niece, and nephew, Caitlyn and Justin Ayers.
He was preceded in death by his mother, Lois Ayers.
A Memorial Service will be held at 6 p.m. Friday, December 4 in Fisher Funeral Chapel with Pastor Candice Hinkle officiating.
Friends will be received from 4-6 p.m. prior to the service. Due to the Covid-19 situation, masks are required and social distancing will be observed.
In lieu of flowers, memorial contributions may be made to the Cass County Humane Society. You are also invited to bring a bag of pet food, toys, or blankets to the funeral home to be displayed and then donated to the Humane Society.
You may share memories, photos and condolences on Jeff's Tribute Wall at www.fisherfuneralchapel.com.