Last Updated on December 13, 2020 by Fisher Funeral Chapel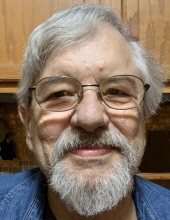 Mark A. Gillaspy, 74, Kokomo, passed away on Wednesday, December 9, 2020, in the comfort of his home with his family by his side following a hard-fought battle with cancer.
Born September 7, 1946, in Indianapolis, he was the son of the late Don E. and Virginia D. (Campbell) Gillaspy.
On March 10, 2000 in Las Vegas. Mark was married to Christina (Winegardner) Gillaspy, who survives.
A 1964 graduate of North Western High School, Mark attended college at while in the navy. A Veteran of the United States Navy, Mark served his Country during the Vietnam War.
In 1972, Mark began a career at Chrysler that spanned thirty-two years. He worked as a job setter. Mark was an avid fisherman. He enjoyed "sweat-hogs", golf and bowling. A very skilled woodworker, Mark could make you anything. During his tour of duty in Vietnam, he won the ping pong championship on his naval ship. He was a proud Trump supporter and proud to be an American. He loved watching all types of sports and was a loyal fan of the Colts football team.
Surviving with his wife are two sons, Aaron (Kathy) Gillaspy, Clarksville, Tennessee, and Robert Gillaspy, Crawfordsville; four siblings, Don William Gillaspy, Stephen Gillaspy, Valeta (Kim) Burris, and Rebecca Gillaspy; and two grandsons, Seth and Evan Gillaspy.
He was preceded in death by two siblings, Carl Horton and Peggy Deggler.
A Funeral Service celebrating Mark's life will be held at 1 p.m. Saturday, December 12 in Fisher Funeral Chapel. Masks are required and social distancing will be observed.
Burial, with military honors, will follow at Mount Hope Cemetery.
Friends will be received from 11 a.m. Saturday until the time of the service.
In lieu of flowers, memorial contributions may be made to the Cass County Humane Society. You are also invited to bring a bag of pet food, toys, or blankets to the funeral home to be displayed and then donated to the Humane Society.
You may share memories, photos and condolences on Mark's Tribute Wall at www.fisherfuneralchapel.com.