Last Updated on January 4, 2021 by Fisher Funeral Chapel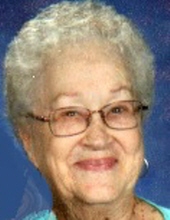 Betty Jean Burks, 96, Logansport, passed away peacefully at 3 a.m. Friday, January 1, 2020, in The Residence at Deer Creek, Schererville, Indiana.
Born June 25, 1924, in Logansport, she was the daughter of the late Jesse O. and Lilliam M. (Sterrett) Smith.
On August 16, 1945 in Bisbee, Arizona she married the love of her life, Charles D. :Charlie" Burks. He preceded her in death June 19, 2017.
A homemaker, Betty was a devoted wife and loving mother. With Charlie's career as a U.S. Marshal, the family lived in Northern Indiana, eastern Illinois, and eventually New Orleans, Louisiana, where the family lived for 15 years.. It was during the height of the Civil Rights movement in 1960 when Charlie was one of several U.S. Marshals who escorted Ruby Bridges, the first black child to attend the previously segregated William Frantz Elementary School in New Orleans, Louisiana. This image was immortalized in the famous Norman Rockwell painting, "The Problem We All Live With." That assignment led to a lifelong friendship with Ruby Bridges and Betty loved her dearly.
The wife of a law enforcement officer is not for the faint of heart, but Betty handled it with prayer. She was a lifelong member of the Calvary Presbyterian Church and her faith in her Lord and Savior, Jesus Christ, sustained her through her entire life.
Betty was proud of her heritage as a longtime member of the Olde Towne Chapter of the Daughters of the American Revolution. Wherever Betty lived, she was involved in various clubs and organizations such as the Griffith Carden Club, the Logansport Genealogy Society, as well as quilting and crafts groups. Betty loved going out to eat and the Burks had their "own table" at their favorite spot, The West Side Diner.
She is survived by two sons and daughters-in-law, Dan and Beth Burks and Robert and Judy Burks; seven grandchildren, Bob (Libby) Burks Jr., Jeff (Maggie) Burks, Rick (Noel) Burks, Tim Burks, Tina Burks, Carrie (George) Cermak and Mary Beth Auxier; twelve great-grandchildren, Noah, Ethan, Logan, Deacon, Duke and Brooke Burks, Michael and Mandie Burks, Nina and Emma Richards, Aria Auxier, Katie Cermak; and several nieces and nephews.
In addition to her husband and parents, Betty was preceded in death by one sister, Dorothy (Home)Surface and three brothers, Harlan, Neal, and Jessie Jr. Smith.
The Olde Towne Chapter of the DAR will conduct rites at 2 p.m. Thursday, January 7 in Fisher Funeral Chapel. A Funeral Service celebrating Betty's life will follow with Rev. Dr. Daniel Lute officiating.
Interment will follow at Ever-Rest Memorial Park, Logansport, Indiana.
Friends will be received from noon until the time of the service. Safety guidelines regarding Covid-19 will be in place, including masks and social distancing.
Memorial contributions may be made to the Olde Towne Chapter of the Daughters of the American Revolution. 824 High Street, Logansport, IN 46947
You may share memories, photos and condolences on Betty's Tribute Wall at www.fisherfuneralchapel.com.