Last Updated on January 29, 2021 by cassnetwork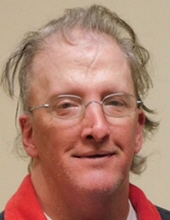 Mark Alan Pullen, 51, of Logansport, passed away unexpectedly on Tuesday, January 26, 2021.
He was born June 27, 1969, in Howard County.
On July 26, 2008, in Kokomo, he was married to Lindsay Joy (Davis) Pullen. Her death, on November 13, 2018, was a devastating loss for Mark. He loved her with his whole heart.
A member of the First United Methodist Church, Mark was faithful in his attendance and enjoyed helping with the sound system during worship services. He enjoyed the companionship of his pet cats, Meowachy and Precious, and dog, Brutus.
A Funeral Service celebrating Mark's life will be held at 1 p.m. Monday, February 1 in the chapel at Mount Hope Cemetery. Pastor Beth Ann Cook will officiate. Friends will be received from 12:30 p.m. until the time of the service.
Interment will follow in Mount Hope Cemetery.
Memorial contributions may be made to the First United Methodist Benevolence Fund as a fitting way to honor Mark and Lindsay, who both loved helping others.
You may share memories of Mark on his Tribute Wall at www.fisherfuneralchapel.com.