Last Updated on January 2, 2021 by Fisher Funeral Chapel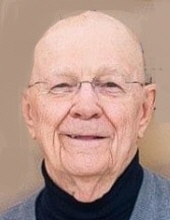 Oris McGuire, Jr., 83, of Logansport, passed away Wednesday, December 30, 2020, in the IU Arnett Health Hosptial in Lafayette. Oris had beat the Covid-19 virus but the toll it took on his body – having fought valiantly since the first of December – made each breath difficult. Oris closed his eyes to the pain and suffering of this world to open them in Heaven.
Born March 8, 1937, in Logansport, he was the only child of the late Oris Sr.and Leoria (Sisson) McGuire.
During his sophomore year at Logansport High School, Oris met a beautiful young freshman girl, Sally Kaye Hunter. It wasn't long before the two became high school sweethearts. Following his 1956 graduation from LHS, Oris enlisted in the U.S. Marine Corps. He served as an MP at a Naval Base in San Francisco. When Sally made the trip to California to visit him, the young couple walked up the windiest street in the United States, Lombard Street. After reaching the top, Oris proposed to Sally and she said, "Yes." On Valentine's Day 1960, in the former Market Street United Methodist Church, Sally and Oris were wed in Holy Matrimony. Their love story was beautiful and they enjoyed 59 happy years as husband and wife. Her death on June 11, 2019, from Alzheimer's, was heartbreaking for Oris.
Oris developed an early fascination with watchmaking. His mother's brother, Keith Sisson, was a watchmaker who owned Sisson Jewelers in Flora. Following his service in the Marine Corps, Oris enrolled at Bradley University in Illionis where he earned an Associates of Science in Horology – which is the science of measuring time and the art of making instruments for indicating time. He purchased Fernbaugh's Jewelry Store and dedicated his measure of time in this world to provide excellent service and craftsmanship. Pun intended with the utmost love and respect – Oris was a rare "gem" among men. Honest and caring, he counted his clientele as friends and appreciated their loyalty.
Oris and Sally worked together as a team and were proud of their children for joining the family business – with Fernbaugh's locations in Logansport and Plymouth. They also enjoyed many vacations together as well as traveling with family and friends. Oris kept young with his children and grandchildren and loved going to all of their activities.
Surviving are one son, Derek (Diana) McGuire, Logansport, one daughter, Lori (Brian) VanDuyne, Plymouth, five grandchildren, Zachary (Sarah) McGuire, Jordan McGuire, Kendall (Nate) Gundrum, Chase Van Duyne, and Noah Van Duyne; a great-grandson, Ezekiel McGuire; a step-great-grandson, Hayden; and his sister-in-law, Reba (Rick) McClure, Logansport.
Private services will be held at Fisher Funeral Chapel with Pastor Bruce Vernon officiating.
Interment, with full military honors, will be in Mount Hope Cemetery.
A Celebration of Life will be held at a later date. The family also plans an American Red Cross Mobile Blood Drive in the future as a way to honor Oris' memory as well as to encourage those who have antibodies for Covid-19 to donate blood or plasma to help those who are struggling to survive this virus.
Memorial contributions may be made to the Gary Sinise Foundation's "Combat Covid" campaign to provide PPE's for those frontline workers.
You may share memories, photos and condolences on Oris' Tribute page at www.fisherfuneralchapel.com.