Last Updated on February 17, 2021 by Fisher Funeral Chapel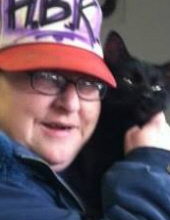 Darlene K. Russo, 54 of Logansport, passed away Tuesday, February 16, 2021, at the St. Elizabeth Franciscan Hospital, Lafayette.
Born October 1, 1966, she was the daughter of the late Bonita Gay Russo. From the time she was a baby, she was raised by her grandmother, the late Mary K. Russo.
Darlene was a graduate of Logansport High School. For over twenty years, Darlene worked for Peak Community Services as a parts sorter.
She enjoyed arts and crafts. Darlene dearly loved her cat, "Baby Girl."
She is survived by one brother, Timothy Russo; two aunts, Julie (Mike) Shelters and Connie Wildermuth; two uncles, Joe (Ruth) Russo and Steve Culp; and cousins, Sandy Maggart, Donna Rhodabaugh, Corinna Shaw, Gary Kiger, Autumn Isaacs, and Karen Isaacs and Summer Isaacs.
Graveside service will be held at a later date in Mount Hope Cemetery.
Memorial contributions may be made to Peak Community Service's in memory of Darlene.
You may share memories, photos and condolences on Darlene's Tribute Wall at www.fisherfuneralchapel.com