Last Updated on February 21, 2021 by Fisher Funeral Chapel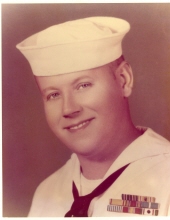 Herbert C. Havens 92, Logansport, Indiana, passed away Wednesday, February 17, 2020, following a brief illness.
Born March 13, 1928, in Rock Island, Illinois, Herbert was the son of the late Herbert Paul and Margaret Nellie (Lyons) Havens.
He was married to Maxine (Williams Havens for 33 years. She preceded him in death on March 17, 1993.
At the age of 15, Herbert, enlisted in the U.S. Navy where he served for thirteen years. He was proud to be a veteran of both World War II and the Korean War.
Herbert retired after 33 years as a Diesel Mechanic with Moline Consumers.
Herbert enjoyed playing pool, photography, working on computers and taking walks with his dogs Baby and Spot.
He was a member of local 150 for 50 years. Herbert also belonged to the Veterans of Foreign Wars, the American Legion and the Moose Lodge.
He is survived by three sons, Michael(Debbie) Havens, Timothy Havens and David Havens; his grandchildren, Joseph Andersen, Chastity (Bob) Rance and Joshua Bridge; great-grandson, Evan Bridge; and his sisters, Sharon Mooney and Linda Seyfried,
In addition to his wife and his parents, he was preceded in death by one sister, Jean Dunn.
On behalf of Herbert, his family would like to say "thanks" to Doris for taking care of Spot these last few weeks and for being a friend. A very special thanks goes out to Deb for all the home-cooked meals. The family is also very appreciative of Herbert's wonderful neighbors over the yeaers – especially to those who helped during the recent snow storm.
The Havens family is especially grateful to the Hospice team, which included Dasha, Eric, Julie, and Zac, for their amazing support and compassionate care.
Mr. Havens wishes were to be cremated with a Celebration of Life ceremony to be held at a later date where he will be accorded with military honors.