Last Updated on February 17, 2021 by Fisher Funeral Chapel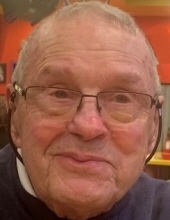 James L. Crane, 88, Logansport, passed away at 12:17 a.m. Monday, February 15, 2021, in Logansport Memorial Hospital.
Born January 12, 1933, in Richmond, he was the son of the late Ernest E. and Geneva Maria (Sanders) Crane.
On July 13, 1957, he was married to Carolyn (Rouser) Crane. She preceded him in death on July 12, 2006..
Jim was proud to be a veteran of the United States Marine Corps, having served during the Korean War.
Following his honorable discharge from the military, Jim graduated from Barber College. He worked as a barber at former shop located in Eastgate Plaza.
A retiree of Delco, Jim worked at the Kokomo plant for twenty-six years.
Jim enjoyed golfing. He loved spending time with his family and friends. Florida was his favorite destination where he enjoyed fishing. He leaves behind many wonderful memories filled with love and laughter.
Surviving are his son, Bob Crane, of Anderson; his daughter and son-in-law, Jean and Joe Rozzi, of Logansport; two grandchildren, Joseph (Emily) Rozzi, and Erika (Matt) Callaway; his precious great-grandchildren, Leevi, Trevor, Blake, Alaina, Kinley and Mia; and one sister-in-law, Ruth Crane, Tennesee.
He was preceded in death by brothers, Bob and Ernie Crane; and one sister, Donna McLeland.
A private family service will be held at Fisher Funeral Chapel. Burial will be in Ever-Rest Memorial Park.
Memorial contributions may be made to the Memorial Hospital Foundation to benefit the Cancer Care Center.
Jim's family would like to thank Dr. Cory Neumann, Dr. Anderson and the compassionate staff at Memorial Hospital the the love and care shown to Jim during his final days.
You may share memories and offer condolences on Jim's Tribute Wall at www.fisherfuneralchapel.com.