Last Updated on February 4, 2021 by Fisher Funeral Chapel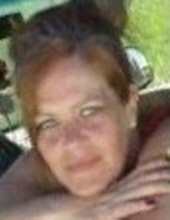 Kendra Darlene Gilland-Wilkinson, 49 of Logansport, passed away unexpectedly on Saturday, January 30, 2021, in the emergency room at Logansport Memorial Hospital.
Born October 6, 1971, in Lafayette, she was the daughter of Earl Gilland, Kokomo, and Carolyn (Warrick) Gilland, Logansport.
On November 6, 2015, in Logansport, she was married to Edward H. Wilkinson, who survives.
Kendra was employed at Happy Burger. She had previously worked at Cass Transit and Tyson Foods.
She had a green thumb and enjoyed gardening. Kendra also loved her cats. Kendra was a very caring and giving person whose final gift was the gift of life as a tissue donor with the Indiana Donor Network.
Surviving with her parents and her husband are two children: Gage Kodah Costello, West Lafayette, and Tanna Kenzie Hylton, Camden; siblings, Greg Gilland and Karen Leffert, both of Logansport; and nieces and nephews, Megan, Alex and Andrew Sullivan, and Dakota Gilland.
A Celebration of Life, will be held from 5-7 p.m. Friday, February 5 at the Helm Street Church of God.
Memorial Contributions may be made assist the family by clicking on https://fundthefuneral.com/kendra-gilland-wilkinson
Fisher Funeral Chapel waives any processing fees so 100% goes directly to help with Kendra's final expenses.
You may share memories and condolences on Kendra's website at www.fisherfuneralchapel.com.