Last Updated on March 26, 2021 by Fisher Funeral Chapel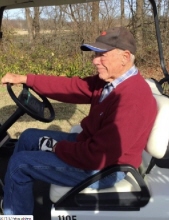 James D. "J.D." Alberson, 95, Logansport, passed away peacefully on Tuesday, March 23, 2021, at his daughter's home, surrounded by his family.
Born August 29, 1925, in Stoddard County, Missouri, he was the son of the late George and Ollie Mae (Lacey) Alberson.
On March 1, 1947, he was married to Evelyn Louise (Nunn) Alberson. After 72 years of marriage, she preceded him in death on Nov. 15, 2019.
J.D. was a veteran of the United States Navy during WWII. He later enlisted in the U.S. Army, serving in the Korean War. He was proud to be a veteran and held membership in the Veterans of Foreign Wars and the American Legion.
In 1981, J.D. retired from General Motors where he had served as plant superintendent at the Delco division in Kokomo.
J.D. was an avid golfer. He held his private pilot's license and had enjoyed many adventures soaring the skies during his lifetime.
Surviving are his children, Connie (Mike) Meagher, of Logansport, and Danny Alberson, of Bettendorf. Iowa; one brother, Larry Laverne Alberson, Salisbury, Missouri; eight grandchildren; fourteen great-grandchildren; and one great-great-grandchild on the way.
He was preceded in death by one brother, Verdene Alberson, one sister, Delight Alberson; and one granddaughter, Elizabeth Beane.
A Funeral Service celebrating J.D.'s life will be held 1 p.m. Saturday, March 27 in Fisher Funeral Chapel with his daughter, Connie Meagher, officiating.
Interment, with full military honors, will be in the Mount Hope Cemetery.
Friends will be received from 11 a.m. until the time of the service Saturday.
Per Covid-19 restrictions in place by the Governor, it is requested that masks be worn.
Contributions may be made to the Cass County Honor Guard fund through the Cass County Community Foundation.
You may share memories and condolences on his Tribute Wall at www.fisherfuneralchapel.com.