Last Updated on April 7, 2021 by Fisher Funeral Chapel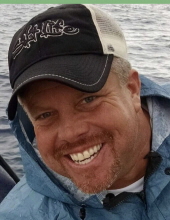 Charles Neil "Chuck" Shackelford, 50, Indianapolis, passed away Sunday, April 4, 2021.
Born March 5, 1971, in Burley, Idaho, he was the son of Dave and Patty (Toon) Shackelford, who survive in Logansport.
A 1989 graduate of Logansport High School, Chuck entered the United States Air Force. He served as a communications specialist during peacetime. During his years in the Air Force, he studied computer science.
Chuck was previously employed with Earth Images. He also worked for Slusser's Landscaping for several years.
An outdoor enthusiast, Charles enjoyed fishing, hunting and golfing. He loved nature. He loved spending time with his canine companions, Louie and Sally.
Surviving with his parents are his girlfriend, Michelle Olmstead; brother, David (Andrea) Shackelford Jr.; sisters, Tina (George) Dixon and Elizabeth (Sean) Anderson; maternal grandmother, Deloris Parish; nieces and nephews, Taylor Grauel, Sonny Anderson, Taylor Anderson, Devin Shackelford, Coby Mims and Annalise Dixon; great-nieces, Averie and Aubrielle; aunts, Barb Hamblin and Theresa Hare; uncle, Bob (Deb) Toon; and several cousins.
He was preceded in death by paternal grandfather, Russell Suddoth; maternal grandfather, Joe Toon; maternal grandmother, Alma Toon; maternal stepgrandmother, Geneva Toon; uncle, Jim Shackelford; and cousin, Greg Hare.
A funeral service celebrating Chuck's life will be at 6 p.m. Thursday, April 8, at Fisher Funeral Chapel, with Pastor Candice Hinkle officiating.
Friends will be received from 4 to 6 p.m. Thursday before the service.
Private burial with military honors will be in the Marion National Cemetery.
Memorial contributions may be made to Cause for Paws, P.O. Box 1402, Logansport, IN 46947.
You may share memories and condolences on Chuck's tribute wall at www.fisherfuneralchapel.com.