Last Updated on April 1, 2021 by Fisher Funeral Chapel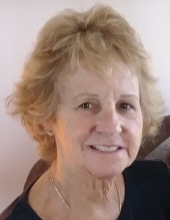 Debbie Ross, 64, of Royal Center, passed away Tuesday, March 30, 2021 in her home following a 16-year courageous battle with cancer.
Born October 6, 1956 in Valdosta, Georgia, she was the daughter of William and Mary Gibbs. She grew up in the beautiful town of Mount Vernon, Indiana.
On November 10, 1973, in Logansport, Debbie was married to Darrell Ross, who survives.
Debbie had worked as a certified fitter for many years at the former Dexter's Pharmacy. Debbie loved working with children and worked hard to receive certification as a teacher's aide, a position she enjoyed the past few years at Pioneer Elementary School.
Had she known grandchildren would have been so much fun, she would have had them first. Her life revolved around her grandchildren, Mason, Makala, Gabriella and Talen, who will carry her love with them forever. Debbie was not just grandma to four biological grandkids, she was "Grandma-extraordinaire" to hundreds of kids over the years.
Debbie enjoyed being outdoors in her yard, decorating and throwing parties for the holidays, shopping, traveling and float trips. She was a member of the Breakfast Club that used to meet at Al's and the Eagles Lodge.
Surviving with her husband of 48 years , Darrell, and her grandchildren, are her much-loved daughters, Misty (Chris) Pfefferkorn, of Kokomo and Marie "Mimi" Harness of Lucerne; her former son-in-law, Jeff Harness; her mother, Mary Gibbs, sisters, Linda Gibbs and Judy Speiker as well as several nieces and nephews down South including Curt, Olivia and Ellen Schneider; her brothers-in-law, Dennis (Donna) Ross, Dale (Joyce) Ross, Derek, Daniel and Mike Ross; and special friends Deb Hines and Rena Kottenkamp
She is preceded in death by her father, William Gibbs, and siblings, Billy Gibbs, Joan Gibbs, Betty Schneider and Margie Carr.
A Celebration of Debbie's life will be held at 10:30 a.m. Friday, April 2, in Fisher Funeral Chapel
Burial will follow in Davis Cemetery, near Burnettsville.
Friends will be received from 4-7 p.m. Thursday, April 1 in the funeral chapel.
You may share memories and condolences on Debbie's Tribute Wall at www.fisherfuneralchapel.com