Last Updated on May 12, 2021 by Fisher Funeral Chapel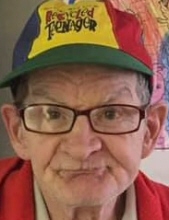 Elgy attended the Hendricks School on Woodlawn Avenue which later evolved into Woodlawn Center. As an adult, Elgy worked as an assembler at Peak Community Services.
Elgy attended the Salvation Army Church with his sister, Ellen, and her family. As a proud member of the Cass County Special Olympics, Elgy's favorite sport was track and field where he earned several medals. Elgy will be remembered as a snazzy dresser who loved to add personality to his wardrobe with fun hats, a nice watch and beaded necklaces. He always had his wallet out ready to ask, "You got any money for me?" Just giving him a few bucks to carry in his wallet might not have made him rich, but it made him feel like a million bucks. He also enjoyed his boom box and wanted to be sure he had extra batteries on hand. Elgy's warm and sweet nature made him a very loveable guy who made friends quite easily. Elgy loved animals and enjoyed playing his harmonica while his canine friends sang along.
Elgy is survived by two sisters, Carolyn Duckett, Logansport, and Ellen (Terry) Ulery, Walton, and a cousin who was like a sister, Sarah (Vince) Barrett, Logansport. Several nieces, nephews and cousins also survive.
In addition to his parents, Elgy was preceded in death by his aunt, Jane Hanna, and his second cousin, Daniel Barrett.
A funeral service celebrating Elgy's life will be held at 2 p.m. Saturday, May 15, in Fisher Funeral Chapel with Majors Elmer and Michele Gamble officiating.
Burial will follow in the Walton I.O.O.F. Cemetery.
Friends will be received from noon until the time of the service on Saturday in the funeral chapel.
Memorial contributions may be made to the Cass County Special Olympics or the Salvation Army.
You may share memories, photos and condolences on Elgy's Tribute Wall at www.fisherfuneralchapel.com.