Last Updated on June 8, 2021 by Fisher Funeral Chapel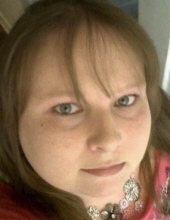 Marina L. Young-Ingle, 41, Logansport, passed away suddenly and unexpectedly in the emergency room at Logansport Memorial Hospital after suffering an apparent heart attack.
Born November 16, 1979, in Logansport, she was the daughter of Joy (Young) Baugh. Joy survives in Logansport.
Marina and William J. "B.J." Ingle II were high school sweethearts. On January 6, 1997, they were married in Logansport. Her husband of 24 years, B.J. Ingle, survives in Logansport.
A homemaker, Marina's world revolved around her family. She loved them so very much and in return, Marina was loved beyond measure. Her legacy will be carried on as her family lives their measure of days as better people for having been loved and influenced by Marina's goodness. She had to be beaming down with pride on Sunday, during the Logansport High School graduation ceremony, when two of her sons showed every ounce of courage in their being walking across that stage and receiving their high school diplomas in spite of having just lost their mother earlier that morning. Marina would not have wanted them to miss it, that's for certain.
Marina was an avid reader and always had a good book in her hand. Her hobbies included her doll collection as well as her collections of wine and shot glasses. Marina had quite a green thumb and enjoyed tending to all of her plants.
Surviving with her husband and mother are six children: William Joseph Ingle, III, Shelton Ross Ingle (fiancée Dakota Elliott), Alexander Lee Ingle, Ashton Floyd Ingle, Abigayle Irene-Louise Ingle, and Vivian GenevaLynn Ingle, all of Logansport; her grandchildren:Violet Ingle, Harrison Ingle (on-the-way), and Liam Hooker-Gunion; Mother-in-law, Anita Pope Davis; and her siblings , including her closest sister, Crystal Gibbs and her children, Aislinn and Jaico – who were Marina's godchildren.
Marina was preceded in death by her baby daughter, RheaAnna Averil-Mae Ingle, brother, James Lucas Baugh, twin sisters, Brenda & Breanna Baugh, and her grandparents, Geneva Mae and Harold Floyd "Pop" Nethercutt, and grandfather, James Orville Young.
A Funeral Service celebrating Marina's life will be held at 7 p.m. on Thursday, June 10 in Fisher Funeral Chapel
Private mausoleum entombment will follow in the Mount Hope Cemetery at a later date.
The family will receive friends from 4 to 7 p.m. on Thursday prior to the service in the funeral chapel.
You may share memories, photos and condolences on Marina's Tribute Wall at www.fisherfuneralchapel.com