Last Updated on June 25, 2021 by Fisher Funeral Chapel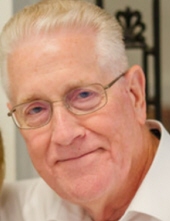 William "Bill" Tincher, Jr., 81, of Logansport, slipped away from this life into the loving arms of our Savior, to be reunited with his beloved wife, Janice. At 8:19 p.m. Thursday, June 24, 2021, Bill died in the emergency room at Logansport Memorial Hospital after suffering a heart attack.
Born July 14, 1939, in Richmond, Virginia, he was the son of the late William Sr. and Hallie Josephine (Meadows) Tincher. During Bill's childhood years, his family moved between Indiana and Kentucky. They moved back to Indiana in his teenage years, where in 1957 Bill graduated as president of his class at Union Township High School in LaPorte County. It was there that he reunited with the love of his life, his high school sweetheart, Janice L. (Carty) Tincher. On April 5, 1958, in Kingsford Heights, they were united in holy matrimony. Their marriage was sealed in the Manti Temple in Utah. The couple loved to square dance and do the jitterbug. Their love story was beautiful to witness, lasting sixty years until her death on December 30, 2018.
In 1957, Bill embarked on a 53-year career with Modine Manufacturing, starting out as a timekeeper. His work ethic and loyalty to the company paid off and he quickly advanced up the ladder as the job took him to Woodville, Ohio, and eventually, Logansport, Indiana, He not only worked days but also attended night classes at Indiana University-Kokomo towards his Bachelor's degree in business. Bill served as the plant manager of Modine until his retirement in 2010.
A very community-minded man, Bill quickly became involved in Logansport and Cass County. He was involved in activities that his children participated in, such as scouting and coaching baseball and basketball. Supporting his family was so important to him that he never missed a sporting event, recital, awards ceremony, or anything else his kids were involved in. He was elected to the Logansport Community School Board, where he served as president. Bill was also a member of the Board of Directors at Logansport Savings Bank. Most recently, as a retiree, he found a new passion in helping children in the CASA program.
Bill was one of the most charismatic men you could have ever met. He was unapologetically outgoing and he radiated a positive energy that was contagious. Bill was able to make friends in an instant. His warmth and sense of humor endeared him to many friends – he never knew a stranger. Above all, his faith and his love of family were the guiding motivation in everything he did in this life.
The most important aspect of Bill's life was his relationship with our Savior. He was a devoted member of The Church of Jesus Christ of Latter-day Saints, having served as Bishop for twelve years. Bill had also served on the High Council and the Stake Presidency in addition to many other roles within the church. He was passionate about supporting missionaries. Bill was a beloved Scoutmaster of the LDS Church Boy Scout Troop and mentored many young men towards earning their Eagle Scout award.
Ask him how he was and his reply would always be, "Pretty good for an old guy." No matter how he felt, he was always positive. He loved tending to his garden. Bill was also an avid reader. He loved his dog, Ariel.
Bill and Janice were blessed with six children and he would remind them often, "Remember who you are – you're a child of God and you're a Tincher," for he wanted to leave them with the legacy of a good name. He is survived by his children Theresa (Jim) Carey, Springville, UT; Billie Jean (Gerald) Williams, Logansport; Angela (Jordan) Sutton, Livonia, MI; Tricia (David) Larsen, Orem, UT; David Tincher, Logansport; and Natalie Tincher, NYC; ten precious grandchildren, Jimmy Carey, Cody Williams, Josh Williams, Andrew (Katie) Sutton, Ashley Sutton, Nathan Sutton, Danielle Sutton, Brinley Larsen, and twins Tyler Larsen, and Tanner Larsen, and great-grandchildren, Olivia Carey, Tabitha Williams, and Jace Williams.
In addition to his wife and parents, he was preceded in death by one sister, Norma Jean Edwards.
Friends will be received from 4-7 p.m. Monday, June 28 at the Fisher Funeral Chapel. 1801 Chase Road, Logansport.
A Funeral Service celebrating Bill's life will be held at 10:30 a.m. Tuesday, June 29, at The Church of Jesus Christ of Latter-day Saints, 4121 High Street, Logansport. Friends may also call one hour prior to the service at the church.
A visitation will also be held at the Deaton Funeral Home in Jackson, Kentucky on Thursday. Graveside services will follow in the Tincher Cemetery in Southfolk, Kentucky.
Those wishing to remember Bill with a memorial contributions may choose their favorite charity.
You may share memories and words of comfort on Bill's Tribute Wall at www.fisherfuneralchapel.com.