Last Updated on July 19, 2021 by Fisher Funeral Chapel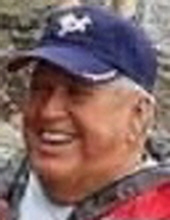 Bobby Harold Caudle, 83, Logansport (Lake Cicott), passed away at 12:25 a.m. Monday, July 19, 2021, in the Franciscan Health Center in Indianapolis, following complications from a recent heart attack.
Born July 16, 1938, in Idaville, he was the son of the late Wilburn Boyd and Hazel Marie Chainey Caudle.
A 1957 graduate of Burnesttsville High School, Bobby married his high school sweetheart, Eloise Ann (Spencer) Caudle on May 10, 1957, in the Caley U.M. Church.
In 2000, Bobby retired from Essroc after 36 years where he had worked as a maintenance mechanic and heavy equipment operator.
Bobby was a man of God who served his Savior faithfully throughout his entire life. A member of the Pisgah Christian Chruch, Bobby had served as an elder, deacon and trustee. He also had the arduous task of caring for the church cemetery, along with his family's help, for many years.
In addition to working at Essroc, Bobby was a farmer raising cattle, goats and hay. He loved the abundant wildlife that surrounded the family farm and was an avid bird-watcher and fisherman. He was always proud of his garden and loved the beauty of the flowers he and his wife grew. Bobby had the eye of an artist and was skilled in capturing nature's images with his camera. He also loved to travel, especially to National Parks. The family is left with many wonderful memories of camping in the old pop-up trailer.
Surviving with his bride of 62 years, Eloise Ann Caudle, are three children: Penny Caudle, Richard Caudle, and Randy (Michelle) Caudle, all of Logansport; four sisters, Evelyn Marie Strasser, Janice Fay Dishmon, Betty Jane Caudle, and Shirley Ann (Don) Chrisman; two sisters-in-law, Mary Kathryn Caudle and Helen Caudle; eight grandchildren: Michael Caudle, Bryce (Karen) Caudle, Fayne Lawson, Jordyn Caudle, Cady (Matt) Moss, Talit "Bill" Ketsuriyong, Bailey (Nathan) Kistler, and Cori Caudle; and great-grandchildren: Brylie Caudle, Caden Caudle, Emmie Caudle, Jason Moss, Warren Moss, Blake Kistler, Wyatt Kistler and Taylor Caudle.
In addition to his parents, Bobby was preceded in death by two sons, Robert and Jeffrey Caudle; one daughter-in-law, Beckie Caudle; and three brothers, Kenneth, Richard and Roger "Bill" Caudle.
A Funeral Service celebrating Bobby's life will be held at 10:30 a.m. Saturday, July 24, in Fisher Funeral Chapel, with Pastor Ryan Lewellen officiating.
Interment, at a later date, will be in the Pisgah Christian Cemetery.
Visitation hours will be held from 4-7 p.m. Friday, July 23, and one hour prior to Saturday's service in the funeral chapel.
Memorial contributions may be made to the Pisgah Christian Cemetery Perpetual Care fund.
You may share memories and condolences on Bobby's Tribute Wall at www.fisherfuneralchapel.com