Last Updated on July 28, 2021 by Fisher Funeral Chapel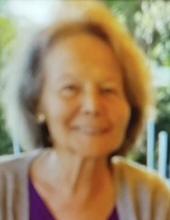 Karin B. Phillipy, 71, Logansport, passed away at 12:20 a.m. Wednesday, July 28, 2021, in Woodlawn Hospital, Rochester.
Born February 8, 1950, in Naumburg, Germany, she was the daughter of the late Helmut and Marianne (Furstenhaupt) Siegel.. Karin was very proud of her German heritage and enjoyed surrounding herself with reminders of her homeland.
On July 29, 1989, Karin was married to Richard "Rick" Phillipy, who survives.. Rick was her absolute #1 and the couple shared many happy times together.
Before retiring, Karen worked as a sales associate at J.C. Penney's.
Karin attended the Cross~Wind United Methodist Church. She loved her family so very much. Karin was especially fond of the time spent with her great-grandchildren for she enjoyed their laughter and energy. She loved horses and liked to ride. Her home was beautifully decorated as Karin had an eye for good taste when it came to home décor.
Surviving with her husaband, Rick Phillipy, are three daughters, Christine Gill, Lakewood Ranch, FL, Carolyn Nethercutt, Burlington, and Catherine "Cathy" Lawhorne, Logansport; step-daughter, Dyan Neuendorf, Logansport; step-son, James Phillipy, Huntington; one brother Dieter (Susan) Siegel; two sisters, Heidi (Gunter) Schossmeier and Gudrun (Tad) Dill; ten grandchildren; and two great-grandchildren.
She was preceded in death by her parents and one daughter, Connie Lawhorne.
A Celebration of Life service will be held at 4 p.m. Friday, August 6, in Fisher Funeral Chapel ,with Pastor Tim Powers officiating. A visitation will be held from 2 to 4 p.m. prior to the service in the funeral chapel.
Interment, at a later date, will be in Ever-Rest Memorial Park.
Memorial contributions may be made to the Cross~Wind United Methodist Church.
You may share memories and offer condolences on Karin's Tribute Wall at www.fisherfuneralchapel.com