Last Updated on July 12, 2021 by Fisher Funeral Chapel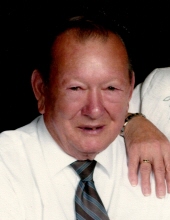 Walter Albert Miller, 92, of Lafayette, IN, passed away on Monday, July 12, 2021 in The Springs at Lafayette.
He was born on May 20, 1929 in Lafayette, Indiana to the late Albert and Florence (Martin) Miller.
Walter graduated from Jefferson High School in the Class of 1947. He served his country in the United States Army from January 1951 until January 1954.
On December 10, 1955, he married Carlene Chalmers in Lafayette. She preceded him in death on August 29, 2006.
Walter worked for Egyptian Lacquer as a Plant Supervisor for 45 years.
He was a member of St. James Lutheran Church. Walter enjoyed bowling, playing horseshoes, mushroom hunting, gardening, and drinking a beer.
Surviving are his daughters, Marcia Peterson of Lafayette and Jacquie (Wayne) Schlutterenhoffer of Benton County; his grandchildren, Drew (Emily) Miller, Megan (Cody) Vaught, and Nikki (Brad) Overmyer; and his 5 great grandchildren.
He was preceded in death by his brothers, Karl and Kenny Miller; his sister, Lola Hendershot; his grandson, Matthew Peterson; and his son-in-law, Fran Peterson.
Services will be on Wednesday, July 14, 2021 at 11 a.m. at St. James Lutheran Church (800 Cincinnati St., Lafayette) with Pastor Peter Heckert officiating. Visitation will be held prior to the service from 10 a.m. to 11 a.m. at the church. Burial with Military Honors will follow in Tippecanoe Memory Gardens, West Lafayette.
Memorial donations may be made to St. James Lutheran Church in loving memory of Walter.