Last Updated on August 17, 2021 by Fisher Funeral Chapel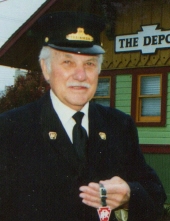 Carl A Simons, 92, of Logansport, passed away at home, surrounded by family, on Monday, August 16, 2021.
Born March 2, 1929. in Logansport, he was the son of the late John Henry and Mary (Tippet) Simons.
During WWII, at the age of 12, Carl worked for the Pharos Tribune selling newspapers at the corner of 4th and East Melbourne. When a train pulled in, he'd jump on board with a bundle of newspapers, selling them to passengers for a nickel apiece. He saw many steam engines come in, like his favorite – the J1 – from the 18th Street roundhouse.
After graduating from Logansport High School, he followed in his father's footsteps and enlisted in the U.S. Army. During the Korean War, Carl spent four years as a paratrooper. Carl continued his service to his country in his later years as an active member of the Cass County Honor Guard. He belonged to the American Legion and the Veterans of Foreign Wars.
When Carl arrived back home from the war, he and several other veterans played softball on the VFW team which organized recreational games with patients at the Logansport State Hospital. A young student nurse, Dolores Randolph, was among the nurses who came to watch the games. Dolores caught his eye and on Valentine's Day, 1953, the couple were married at the Walton United Methodist Church. The date was Carl's idea, so he'd never forget their anniversary. The couple enjoyed 64 happy years together until her death on May 13, 2017.
Following in his father's footsteps, Carl began a 38-year career when he was hired on as a brakeman with the Pennsylvania Railroad in 1953. He saw the company change names from Pennsylvania to Penn Central then retiring as a conductor fom Conrail in 2003. No two days were ever alike. Carl routinely traveled to Cleveland, Chicago, Columbus, Kalamazoo, Grand Rapids and Cincinnati. Carl was a member of the UTU (United Transportation Union), Local 2, Toledo, Ohio.
His love of the railroad and the vast amount of history he had experienced made him the perfect fit for the job as curator of the Iron Horse Museum. From school children to adults, he was lovingly known as "Conductor Carl." The old Vandalia depot had been moved downtown to house the museum, near the site of the former Pennsylvania depot where he used to sell newspapers – talk about coming full circle in life. Carl also wrote columns for the Pharos Tribune sharing his vast knowledge of railroad history and how it played a role in putting Logansport on the map. He enjoyed helping organize bi-monthly railroad breakfasts where old friends could gather to reminisce.
Carl was a man with his priorities in perfect order, God, Family, Country, and his railroad career. He was a member of the Webb Chapel United Methodist Church. One of Carl's greatest passions was golfing and he was quite good – competing in tournaments and showing up those half his age. Carl was also very active with the Cass County Habitat for Humanity, using his skills in helping build homes for those in need. For thirteen years, he enjoyed the companionship of his faithful little dog, Nugget.
Surviving are his four children Linda (Larry) McGill of New Palestine, Barb (Don) Conn of Royal Center, Carl "Butch" Simons, Jr. of Logansport, and Pam Hughes of Kokomo; nine grandchildren: Tia(Randy) Loya, Tiffany Ingram, Khara (Jesse) Ringen, Krysta (Brandon) Abrams, Jake (Kylie) Conn, Adam Simons, Melanie Simons, Stephanie Shively and Brandon Shively, twelve great-grandchildren, and three great-great-grandchild.
In addition to his wife and parents, Carl was preceded in death by four siblings, John Simons, Jr., Wilbur Simons, Exie Parker, and Sue Sanderson.
A Funeral Service celebrating Carl's life will be held at 3 p.m. Monday, August 23, at Fisher Funeral Chapel, with his son-in-law, Larry McGill, officiating.
Interment, with full military honors, will be in the St. John's Cemetery, Logansport.
Friends will be received from 1 -3 p.m. prior to the service in the funeral chapel.
Contributions may be made to the Webb Chapel United Methodist Church.
You may share memories and condolences on Carl's Tribute Wall at www.fisherfuneralchapel.com.