Last Updated on August 23, 2021 by Fisher Funeral Chapel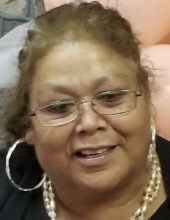 Celerina Salinas-Ruiz, 69, Logansport, passed away Sunday, August 22, 2021, at the IU Arnett Hospital in Lafayette.
Born February 2, 1954, in Transual, Michgocan, Mexico, she was the daughter of the late Salvador Salinas and Andrea Slina-Ruiz.
Celerina was retired from Tyson Foods. She was a member of Our Lady of the Lakes Catholic Parish in Monticello. She was the beautiful, happy matriarch of a loving, close-knit family. Her grandchildren kept her young and she loved spending time with them and teasing them with her warm sense of humor. Her garden was always full of beautiful flowers and vegetables to share. Celerina showed a great a compassion for animals, especially her dogs, and prayed to St. Francis of Assisi for their safety and protection.
She is survived by her children who will miss her dearly, Rolando Salinas, Utah, Juan (Gracie) Solano, Jr., and Oscar Solano, all of Logansport; sisters, Socorro (Alberto) de la Cruz, Luz Salinas, Lidia (Juan) Vargas, Chayo (Antonio) Arciga, Gabriela (Miguel) Tovar, and Letty (Trino) Tovar; her precious grandchildren, Cynthia (Austin) Maier, Juan Carlos Solano, Normaangelica Solano, Alysabeth Falcon, Gabrielle Falcon, Oscar Solano, Marcella Solano, Juan Solano Jr. and Eliana Solano.
Her heart was broken when she lost her daughter, Norma Solano-Salinas on February 10, 2017. She will be laid to rest beside her in the Davis Cemetery following Friday's service. Serving as pallbearers are Lupe Juarez, Alberto de la Cruz, Oscar Solano, Juan Solano, Jr., Oscar Manuel Solano, Austin Maier, and Edwin Reina
Friends will be received from 5 to 8 p.m. Thursday, August 26 in Fisher Funeral Chapel, 1801 Chase Road, Logansport.
The Mass of Christian Burial will be celebrated on Friday, August 27 at Our Lady of the Lakes Catholic Church, 543 South Main Street, Monticello. We are waiting to confirm the time of the service with the church's schedule.
You may share memories and condolences on Celerina's Tribute Wall. If you would like to make a donation to assist her family with Celerina's final expenses, please click on the Tribute Fund button at the top of the page here.