Last Updated on August 24, 2021 by Fisher Funeral Chapel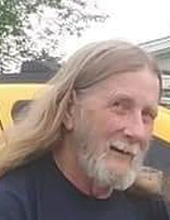 On August 17, 2021, the world lost one of the greatest, most-loving "Pop-Pop's", a man named Edwin Lawrence Stepp, 63, of Delphi.
Born April 18, 1958, in Logansport, Indiana. he was the son of the late Gilbert and Martha (Blessing) Stepp.
Edwin loved to take his grandkids for rides on the mower around the yard. He would be the first one to get down on the floor and play with them. Pop-Pop would let them get into all the toys and make a mess or in the summer – have a water fight. He was a big kid at heart. His goal in life was to be a better Pop-Pol than he had been as a father and in his words, he was just that.
He is survived by his daughter Amanda Stepp (Chris) and their children: Abbagail, Castiel, and Mekia; daughter Anna Robinson; daughter Malinda Harris (Lowell) and their two sons; daughter, Christy Schreyer (Tyler) and their children, Gage and Brooklyn; and daughter Brandy Sill (Leigh) and their child, Kaydence. Edwin has shared his life with his loving companion, Brenda Taylor and her children: daughter Lindsay Kelch (Scott) and their children Ellie and Cooper, son Landon Delp and daughter Haylee Taylor, all of whom he loved and claimed as his own.
He is also survived by his sister, Kathy Rhodenbaugh and her children, Katrina, Kyle and Kent, sister Georgia Browning (Ron) , and brother Rod Stepp.
He was preceded in going to Heaven by his son, Eric Stepp. Eric's children, Cody Moss, Nathaniel Stepp, Angel Rance and Nicholas Hudson survive.
He was also preceded in death by his brothers Gilbert, Leroy, William, Allan and Kenneth Martin Stepp, and his sisters, Alma Lee Cunningham, Jeanetta Eileen Stepp.
Edwin loved watching NASCAR with his best friend, Larry Taylor. Putting together model cars while watching old western movies was his forte. He was always the one family and friends would call if there was a car question or advice needed on how to fix something. He will be greatly missed by his family, especially his grandkids.
A Celebration of Life will be held on Sunday, September 5 at 5:30 p.m. at 22 West Columbia Street, Logansport.
Fisher Funeral Chapel & Cremation Services has been entrusted with the cremation.