Last Updated on August 16, 2021 by Fisher Funeral Chapel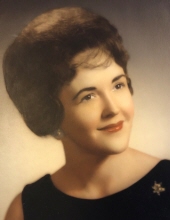 Marcella Hopper, 90, of Roanoke, IN, formerly of Logansport, passed away August 12, 2021, at the Visiting Nurse Hospice Home in Fort Wayne.
Born September 30, 1930, in Harveyton, Kentucky, she was the daughter of the late George Lovelyn and Ruth Belle (Ledford) Duff.
Following her graduation from Robinson High School in 1948, Marcella moved to Logansport to live with her aunt. She started working at R.B.M. where she met Harold W. Hopper. It was love at first sight. The couple went on their first date on December 26, 1948 and were married two months later on February 26, 1949. They enjoyed 69 years of marriage before his death on January 3, 2018.
Marcella was a hard-worker who loved being around people. She had also worked as a seamstress at H.W. Gossard. When her husband founded Hopper Construction in 1961, her role as office manager in the newly established business was essential. Together, their successful business venture impacted Logansport with over 502 newly-built homes over the years. Marcella managed their storefront, Fairfax Interiors, at Eastgate, using her knowledge and good eye in interior decorating to redecorate even more homes in the area. At the age of 80, Marcella started a new job at the former J.C. Penney's Department Store as a sales associate. Always dressed to impress, high heels were a necessity as she wanted to stand tall. Her most recent job was that of receptionist at her granddaughter's dental office, Aboite Dental Group in Fort Wayne.
As a wife and young mother, the former Market Street United Methodist Church was an important part of family time. While living in Roanoke, she attended the Seminary United Methodist Church.
Marcella was a member of the Order of Eastern Star. She had a fun group of fellow mothers who saw each other through life and she participated in get-togethers, bowling leagues and euchre games. She and Harold enjoyed playing in a couples' Euchre group. They had also traveled extensively as members of the Voyager/Ambassadair Travel Club. The tropical islands of Hawaii and the Caribbean were the destinations they loved the most. You always knew where to find her each weeknight between 7-8 p.m. and knew not to interrupt Wheel of Fortune and Jeopardy for she watched them faithfully. She was an avid Colts fan who never missed a game.
Surviving are three children and their spouses, Donna and Dr. Mark Jones, Zionsville, Sharon and Dr. Clyde Killian, of Dubuqe, Iowa, and Daniel Hopper and Cindy Staples-Hopper, of Fort Wayne; grandchildren: Alison (Joseph) Bash, Dr. Adrienne (Chris) Rupright, Elaine (Mark) Christen, Hannah Jones-Williams (Tarique Williams), Sarah Hummel Jones (David Gilles), Michael Killian (Emily Plotin), Alanna (Dr. Thomas) Callhan, Paul (Alicia) Killian, and Nathan, Nicholas and Noah Hopper; great-grandchildren, Mara, Becka and Greta Bash, Ella, Sampson and Vivienne Rupright, Evangeline and Alden Moses, Oscar Christen, Donna and Oliver Williams, Wes and Amaya Killian, Elijah, Ethan, William, Owen, Eleanor, and Anna Callahan, Kairi Jackson, and Thomas and Oliver Killian; one brother, Donald (Peggy) Duff; three sisters, Betty Faye Spencer, Carolyn (Doug) Finch, and Joyce Erickson; and several nieces and nephews.
She was preceded in death by her identical twin sister, Monella Fugate, and siblings, Patrick Ray Duff, Norma Rose, and Roger Duff.
A Funeral Service celebrating Marcella's life will be held at 10:30 a.m. Saturday, August 21 in Fisher Funeral Chapel. Friends will be received from 9:30 a.m. until the time of the service.
Burial will follow in Mount Hope Cemetery.
Memorial contributions may be made to your local Salvation Army or the Visiting Nurse Hospice Home.
You may share memories and offer condolences on Marcella's Tribute Wall at www.fisherfuneralchapel.com.