Last Updated on August 3, 2021 by Fisher Funeral Chapel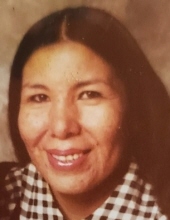 Mary M. Gutierrez, 77, Logansport, passed away early Monday morning, August 2, 2021, in Woodbridge Health Campus following a courageous battle with lung cancer. After being in remission the past two years, her cancer returned with a vengeance just 24 days ago.
Born December 10, 1943, in Wikemikong, Ontario, Canada, she was the daughter of the late Benjamin Spanish and Mina (Jacko) Antoine. Mary's childhood was a difficult one. She was a Canadian Residential School survivor. Residential schools were government-sponsored religious schools that were established to assimilate Indigenous children into Euro-Canadian culture. She was the only child from her family who was forced by the government to attend residential school. There, she was isolated and abused as the system tried to erase her Okibwe ties to family, faith and culture.
Mary moved to Chicago and became an American citizen. She worked as a bartender at Chicago's famous Ms. Ollie's Bar. A great listener, Mary loved people. She always enjoyed playing BINGO at the American Legion and she loved the excitement of visiting casinos, especially the Menominee Casino in Wisconsin. Mary was a wonderful mother and grandmother who was very proud of her Okibwe heritage.
When IBP first came to Logansport, her son moved here and told his mother she would love Logansport, So, Mary lef t the hustle and bustle of Chicago to come to Cass County, where she has resided for over 30 years. Other family members soon followed. Mary loved her adopted homeland of Logansport, Indiana for the people and the beauty of the area.
She is survived by her common-law husband of over 30 years, Darrell "Keith" Harris; four children: Annabella Gutierrez. Francisco Gutierrez, Gregorio Gutierrez and Dolores Jacko; four siblings, Armand (Colleen) Jacko, Eli Jacko, Brenda Jacko and Ivey Jacko; eight grandchildren, Jordan Corbiere, Jasmine Corbiere, Joselyn Ramos, Orlando Gutierrez, Zachary Jacko, Caitlin Jacko, Sequoia Jacko and Ariana Maloney.
She was preceded in death by one sister, Doreen Trudea.
Friends will be received from 2 to 3 p.m. Thursday, August 5th during a time of visitation at the Fisher Funeral Chapel, Logansport. A Funeral Service celebrating Mary's life will follow at 3 p.m. in the funeral chapel. Dawn Fisher will officiate at the service. Traditional drumming music will reflect Mary's heritage.
Inurnment, at a later date will be in Mount Hope Cemetery.
Memorial contributions may be made to the funeral home to assist Mary's family with her final expenses. You may donate online, share memories and offer words of comfort on Mary's Tribute wall at www.fisherfuneralchapel.com.