Last Updated on August 24, 2021 by Fisher Funeral Chapel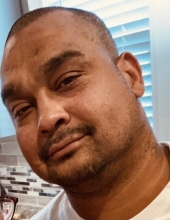 William E. Santana, 38, Logansport, passed away unexpectedly on Friday, August 20, 2021.
Born June 17, 1983, in Brooklyn, New York, he was the son of Louis Santana and Ramonita Perez.
William was engaged to Neraldy Castillo, who survives. The couple enjoyed fourteen years of love and companionship.
Also surviving are his children: 8 year-old daughter, Jaylin Santana, of Logansport, and 18-year-old twins Alicia and Willy Santana, of New York; four siblings, Brian Santana, Louie Santana, Timothy Santana, and Marilyn Santana.
A visitation will be held from 5-7 p.m. Wednesday, August 25 in Fisher Funeral Chapel, 1801 Chase Road, Logansport.
Additional services, followed by cremation, will be under the direction of Funeraria Juan-John's Funeral Home, Brooklyn, New York.