Last Updated on September 3, 2021 by Fisher Funeral Chapel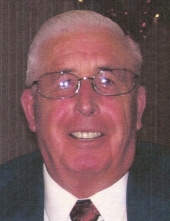 Allen L. "Al" Baer, 89, of Logansport, passed away peacefully Tuesday, August 31, 2021 in Woodbridge Health Campus.
He was born on June 1, 1932 in Logansport, Indiana to the late George L. and Zella B. (Cress) Baer.
Al graduated from Twelve Mile High School in 1952.
On November 11, 1956, he married the love of his life, Rita Walters, in Logansport.
Al worked as a conductor for the railroad for 40 years before retiring.
He was a member of the American Legion Post 60. Al loved everything sports. He was an avid IU basketball fan and loved the Cubs. Go Cubs Go!!
Surviving with his wife of 64 years, Rita, are one son, Kenneth (Karla) Baer and one daughter, Karen Baer; brother, Bob (Marilyn) Baer; two sisters, Evelyn (Gary) Byers and Mary Emery; brothers-in-law, Tom Parkins and Phil (Janice) Walters; sister-in-law, Kim (Charlie) Brown; grandson, Dakota George Allen (Jamie Nunan) and several nieces and nephews.
He was preceded in death by three sisters, Luila Berkshire, Rita Parkins and Marcella Rist and two brothers, Emery Baer and Ben Baer.
Friends will be received from 4-7 p.m. Friday, September 3, 2021 at the at Fisher Funeral Chapel.
A Funeral Service celebrating Al's life will be held at 11 a.m. Saturday, September 4, 2021 in Fisher Funeral Chapel with Pastor Dean Snyder officiating.
Interment, with full military honors, will be in the Ever-Rest Memorial Park.
You may share memories and offer condolences on Al's Tribute Wall at www.fisherfuneralchapel.com