Last Updated on October 16, 2020 by Fisher Funeral Chapel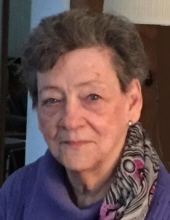 Betty Pherson Hines, 94, Logansport, passed away on Thursday, October 15, 2020, in Miller's Merry Manor.
Born October 24, 1925, in Logansport, she was the daughter of the late Charles and Vera (Shelhart) Searight.
Her first marriage was to Harold Pherson who preceded her in death. On September 22, 2001, she was married to Donald Hines who preceded her in death in 2003.
Betty's first job was at the Mary Ann's Bakery. Betty's bright, shining eyes and cheery personality endeared her to customers at Corso's Cleaners for many years.
Betty was a member of the Pisgah Church and King's Daughter. Betty was also active in the Widow-to-Widow group where she used her own life experiences to mentor and befriend the newly widowed. Her family meant the world to her and she loved her grandchildren beyond measure.
Surviving are one son, Gary (Judith) Pherson, Logansport; one daughter, Cheryl (Dan) Bemeben, Florida; six grandchildren, Abe, Molly, Ben, Camille, David and James.
She was preceded in death by one sister, Barbara Swartzell.
A Funeral Service celebrating Betty's life will be held at 1:00 p.m. Tuesday, October 20 in Fisher Funeral Chapel with Pastor Ryan Lewellen officiating.
Interment will follow in the Ever-Rest Memorial Park.
Friends will be received from 11 a.m. until the time of the service Tuesday in the funeral chapel.
Memorial contributions may be made in Betty's memory to the Alzheimer's Association.
You may share memories and condolences on her Tribute Wall at www.fisherfuneralchapel.com