Last Updated on October 31, 2020 by Fisher Funeral Chapel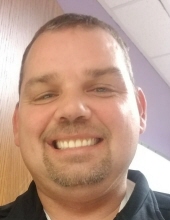 Jeremy Aubrey, 47, of Logansport, passed away on October 29, 2020, from injuries sustained in a tragic accident on State Road 25 north of Logansport.
Jeremy was born April 17, 1973 in Evanston, Illinois.
A graduate Twin Lakes High School, Jeremy studied business management at the University of Kentucky. He enlisted in the United States Army and continued serving in the Army Reserves.
While working as the store manager for Papa John's Pizza, Jeremy received an order to deliver a pizza to a young lady named Aubrey. When he delivered the pizza, it was love at first sight. On September 20, 2014, in Logansport, that young lady became Aubrey Nichole (Cripe) Aubrey, Jeremy's beautiful bride.
Jeremy worked as a children's minister for The Cross at The Crossroads. He also served as a Court Appointed Special Advocate for children with Cass County's CASA program.
He was an enthusiastically devoted member of The Cross at The Crossroads. Jeremy loved studying the Bible and spending time in prayer. He related well to children – Jeremy was a big kid at heart. Currently, he served as the PTO president at Franklin Elementary School and the Columbia 6th Grade Academy parents' organization. He was a huge University of Kentucky fan. Jeremy had a rich sense of humor and was fun to be around.
Surviving with his wife, Aubrey are his parents, Judy and John Million, of Delphi; his father, Marvin "Punk" Johnson, Georgia; six children: Shelby (Robert) Stearns, Logansport; Jeremy Aubrey II (fiancée Alexandria Livers), of Indianapolis; Rachel (Eladio Gaspar) Domingo Mendoza, Warsaw, Adam Wallace, Fort Knox, Kentucky, and Jakson Combs and Wallace Aubrey, both at home; one brother, Tony Bower, Akron, Ohio; four grandchildren: Jeremy Aubrey III, Yazmyn and Alberto Domingo Mendoza, and Zander Shafer; mother-in-law and father-in-law, Kathy and George Troutman, Logansport; step-mother-in-law, Kathy Cripe, New Waverly, five step-siblings; two brothers-in-law, including Jason (Raquel) Cripe, Logansport, two sisters-in-law; nieces and nephews; and Great-Grandma Rush (Connie).
He was preceded in death by his father-in-law, Todd Cripe; one brother, Jeffrey Garver; and one sister, Kimberly Garver.
A Funeral Service celebrating Jeremy's life will be held at 10:30 a.m. Wednesday, November 4 in The Cross at the Crossroads, 1800 East Main Street, Lognasport, with Dr. Gregory Elkins officiating.
Burial, with full military honors, will follow in Ever-Rest Memorial Park.
Friends will be received from 3-8 p.m. Tuesday, November 3 in the church.
Memorials are suggested to Jeremy's Memorial Fund through Fisher Funeral Chapel's webpage where you may also share memories, photos and condolences on Jeremy's Tribute Wall at www.fisherfuneralchapel.com.