Last Updated on November 4, 2020 by Fisher Funeral Chapel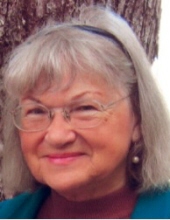 Jeannine E. "Jeannie" Wickersham, 91, of Logansport, passed away peacefully on Sunday, Nov. 1, 2020, at her residence at McKinney Place.
Born of Polish/German descent on Nov. 3, 1928, in Paris, France, she was the daughter of the late Mr. and Mrs. Joseph Porwit.
Jeannine came to America by the Queen Mary and married Forest L. Wickersham Aug. 1, 1948. They have been very much in love for 72 years. "Jeannie" (as she was known by all) loved music, dancing, nature and animals. But most of all she loved Jehovah God and her family. She was baptized in 1958 as one of Jehovah's Witnesses and has tried to share her faith and Bible hope with whomever she met. She was an inspiration of affection, faith, hope and love for all who knew her.
She is survived by her husband, Forest L. Wickersham; children Diane and Matthew Griner, of Logansport, Indiana, and Mark and Robin Wickersham, of Minnesota; grandchildren, Brett Young, Rodney Wickersham, Laine Murray, Lauryn Wicevic, Ryan Wickersham, Jasmine Harwood, and Levi Wickersham; and 10 great-grandchildren.
She was preceded in death by one son, Larry Wickersham, and one brother, Jean Porwit.
A memorial service via Zoom will be held at a later date.
The arrangements have been entrusted to Fisher Funeral Chapel and Cremation Services. You may share memories and condolences on her tribute wall at www.fisherfuneralchapel.com.