Last Updated on January 29, 2021 by Fisher Funeral Chapel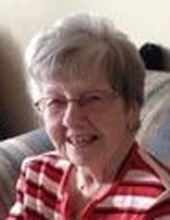 Ellouise Ione Heiland, 94, Kokomo, passed away on Tuesday, January 26, 2021.
She was born to the late T.E. and Leona Drye on January 16, 1927 in Logansport.
Survivors are son, Kelley Heiland, of Galveston; daughter, Rebecca Smith, of Frankfort two brothers, Charles Drye, of Anderson, and Fred Drye, of Wabash, and two sisters-in-law, Betty Wright, of Logansport, and Lois Measel, of Monticello. She adored her five grandchildren and eleven great-grandchildren and three great-great-grandchildren. She is also survived by several nieces and nephews.
Her husband Richard; one daughter, Nancy Surratt; her parents; one brother; and two sisters preceded her to Heaven.
In honoring her request, there will be no services. Her family will love her for the rest of their lives.