Last Updated on January 9, 2021 by Fisher Funeral Chapel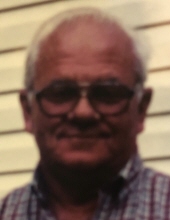 Marvin W. Chambers, 82, of Logansport, passed away Wednesday, January 6, 2021.
Born June 25, 1938, in Blount County, he was the son of the late George W. and Bertie Mae (McCay) Chambers.
He married Mildred (Taylor) Chambers in Florida. She preceded him in death.
Marvin was a pastor for several years spreading the word of gospel everywhere he went. He enjoyed fishing, singing and time spent with his family.
Surviving are two sons, Glenn (Brandy) Stewart, of Logansport, and Michael (Crystal) Chambers, of Danville, IL; sister, Lillimae (Terry) Sandlin. of Alvin, IL; eight grandchildren; and several great- grandchildren.
He was preceded in death by one brother, Bethel Chambers, one sister, Lottie Ruth Chambers, and one grandson, Michael "Mac" McClane Chambers.
A Funeral Service celebrating Marvin's life will be held at 6 p.m. Saturday, January 9 in Fisher Funeral Chapel with Pastor Paul Scott officiating.
Friends will be received from 4:30 until the time of the service on Saturday. Covid-19 will be observed, requiring face masks and social distancing guidelines.
In Alabama, The Blountsville Funeral Home has been entrusted with arrangements. A Funeral Service will be held there at 2 p.m. Tuesday, January 12 with burial to follow in the Pine Bluff Cemetery in Blount County.
Friends will be received from 12 p.m. to 2 p.m. prior to the service on Tuesdsay, Jan. 12, in the Blountsville Funeral Home.
You may share memories, photos and condolences on Marvin's Tribute Wall at www.fisherfuneralchapel.com.