Last Updated on February 4, 2021 by Fisher Funeral Chapel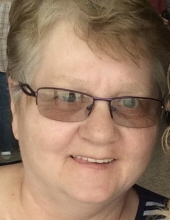 Tereasa Elaine Knight, 66, of New Waverly, passed away Sunday, January 31, 2021, in St. Vincent's Ascension Hospital, Kokomo, following a courageous battle with Covid-19.
Born August 29, 1954, in Logansport, she was the daughter of the late Bill and Delores (Burns) Adair.
She was married to Bill Knight in 1974. The couple later separated. Bill survives in Logansport.
Tereasa was a 1973 graduate of Logansport High School. From 1985 to 2018, she worked at TM Morris/Kauffman Engineering.
Her life revolved around her grandbabies and she loved them beyond measure. Tereasa's favorite holiday was Christmas and she would go all out to make it memorable. She also enjoyed sewing as well as crocheting blankets.
Also surviving are three children, Josh Knight (Angelina), Shel Hoagland (Robert) and Joe Knight, all of Logansport; four siblings, Cyndi Mackey (Jim), Ron Adair (Jan), James Adair, and Richard Adair, all of Logansport; her much-loved grandchildren, Halie, Jeremy, Jason, Alexis, and Jacob Knight, and Jathan, Jaden, Javery, Jamian, and Jace Hoagland; and one great-grandson, Jaxson Knight.
She was preceded in death by siblings, Steve Adair and Sharon Adair-Smith; her maternal grandparents, Rosa and Arthur Burns; and her paternal grandparents, Cecil and Theresa Adair.
A Funeral Service celebrating Tereasa's life will be held at 2 p.m. Friday, February 5 in Fisher Funeral Chapel.
Interment will follow in Davis Cemetery, near Burnettsville.
Friends will be received from noon until 2 p.m. in the funeral chapel prior to the service. Masks are required and social distancing guidelines will be in place.
You may share memories and condolences on Tereasa's Tribute Wall at www.fisherfuneralchapel.com.