Last Updated on July 12, 2021 by Fisher Funeral Chapel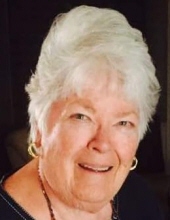 Linda Lutes Welch, of Logansport, passed away on her 78th birthday, Thursday, July 8, 2021, in Lafayette.
Born July 8, 1943 in Logansport, she was the daughter of the late Donald D. nd Lela H. (Dial) Lutes.
A 1961 graduate of Logansport High School, Linda pursued her dream of becoming a teacher by earning her Bachelor of Science degree in Education from the University of South Carolina.
For 10 years, she worked as a kindergarten teacher at Williston Elementary School.
Linda attended the Baptist Temple in Logansport and the Fairview Presbyterian Church in North Augusta, South Carolina. She enjoyed wintering in The Villages in Florida.
Linda's primary interest was always people. She so enjoyed rocking on the front porch engaged in fellowship with classmates, church mates, family and dear lifelong friends.
She is survived by three children, Elizabeth Ann Welch, of Logansport, Kelly Lynn Smith, of Orange Park, Florida, and Garnet Michael Welch, of Raleigh, NC, and grandchildren, Cody and Maggie Welch, of Raleigh, NC.
In addition to her parents, she was preceded in death by one brother, Ronald Lutes, and one cousin, Richard Dial.
A Funeral Service celebrating Linda's life will be held at 2:00 p.m. Wednesday, July 14 in Fisher Funeral Chapel with Pastor Mark Foreman officiating.
Friends will be received from noon to 2 p.m. Wednesday, prior to the service.
Interment will follow in Mount Hope Cemetery.
You may share memories and offer condolences on Linda's Tribute Wall at www.fisherfuneralchapel.com.